The GeForce GTX 950 is definitely a humble card compared to the more powerful GeForce GTX 980, GTX 970 and even GTX 960 offerings by NVIDIA but to Gigabyte the GTX 950 is a special card – it was the first to belong in a new line called XTREME GAMING.
It's been a while since the launch of this Gigabyte video card so it is time to expand the existing series with new offers – Gigabyte has just announced five new graphics cards that belong to the same XTREME GAMING line. Here they are – Geforce GTX TITAN X (GV-NTITANXXTREME-12GD-B), GeForce GTX 980 Ti WINDFORCE Edition (GV-N98TXTREME-6GD) and WATERFORCE Edition (GV-N98TXTREME W-6GD), GeForce GTX 980 (GV-N980XTREME-4GD), and GeForce GTX 970 (GV-N970XTREME-4GD).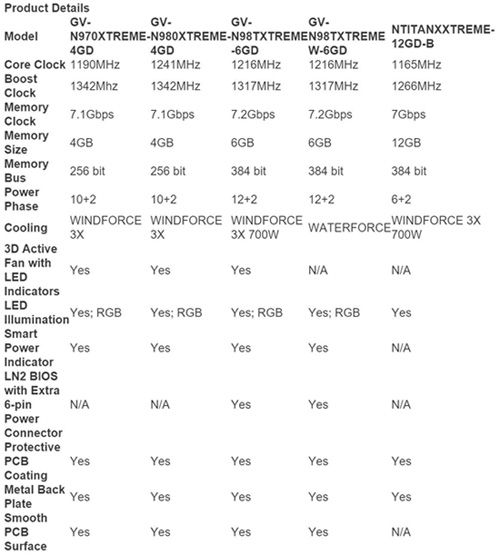 The new cards have been re-designed from the ground up and feature various improvements that provide extra stability and performance. They feature GPU Gauntlet Sorting technology that guarantees an exceptional overclocking proficiency in terms of power switching, substantial factory overclocking, extra 6-pin power connectors for easier overclocking, Windforce 3X triple-fan air cooling and WaterForce liquid cooling (for certain models only), special XTREME Protection that covers the graphics card with a special aerospace-grade coating against moisture, dust and corrosion, special LED lights, extra power phases for more stable voltage output and lower MOSFET temps as well as highest-grade chokes and capacitors.
No word on pricing as of now.
Source: Gigabyte