Yesterday MSI has announced a new Classic series All-in-One PC  and introduced the first model Wind Top AC1900, today they unveil another one new model, designed specifically for the business and office environment, as well for restaurants, hotel reception desks, 24-hour stores and gas stations – the Wind Top AP2000.
MSI's space-saving desktop Wind Top AP2000 has a classic elegant black finish and is packed 20-inch LCD panel with 1600 x 900 resolution and optional single-touch. The AIO runs Microsoft's Windows 7 OS and is powered by Intel Pentium Dual Core P6100 (2.0GHz) Processor, Intel HD graphics and up to 8GB of RAM. Features also include a 320GB SATA2 hard drive, Gigabit Ethernet, 802.11 b/g/n WiFi, a 1.3 megapixel webcam, two 3W speakers and a DVD writer.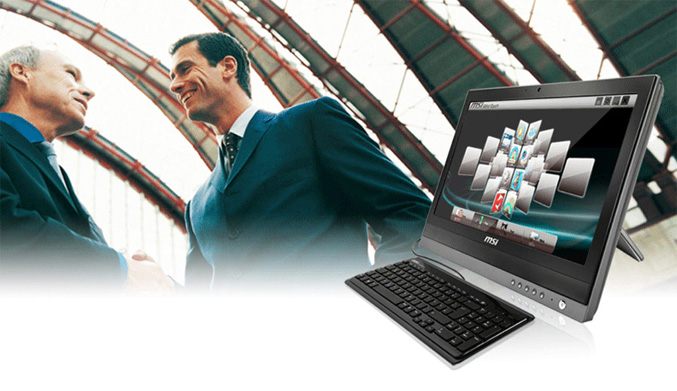 The Wind Top AP2000 also comes with comprehensive set of I/O expansion interfaces -two COM ports are provided for businesses with POS system requirements and can be used to connect to barcode readers, credit card readers and credit card slip printers.  It also includes DVI-I, D-Sub, six-in-one memory card reader and five USB 2.0 ports. MSI claims that the new all in one PC has lowers power consumption and on full operating mode, the noise level will be not more than 32 dB. It comes pre-loaded with Microsoft Windows 7 64-bit OS, Office 2010 and anti-virus software
Again the price tag was not revealed.