Extreme audio & video performance and intelligent overclocking are among the most critical demands of power users. Globally-renowned mainboard and graphics card manufacturer MSI have unveiled their all-new 890FXA-GD70 and AMD 800 series mainboards. Featuring ultimate stability, easy overclocking and extreme performance, these boards targets advanced users who demand ultimate performance and beyond with overclocking.
The 890FXA-GD70 features AMD's latest SB850 southbridge chipset support and server-grade, Military Class specifications for the ultimate performance platform. Also included is the OC Genie intelligent overclocking utility, designed by MSI especially for the AMD platform. With the Unlock CPU Core function, consumers can enjoy ultimate performance at a reasonable price by taking their tri-core processor and making it into a quad-core. The 890FXA-GD70 also fully supports the latest generation USB 3.0 & SATA 6Gb/s transfer technologies that boost high capacity file transfer speed and quality to future standards. In addition, the environmentally conscious and economical DrMOS design is also included (on select models only) making this mainboard a must buy for the enthusiast.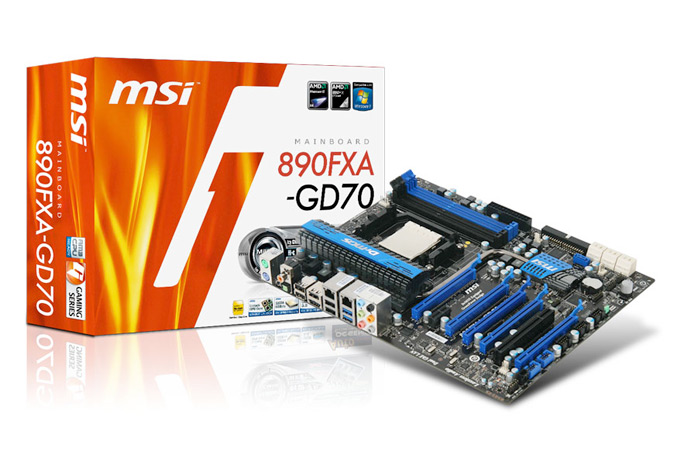 The MSI 890FXA-GD70 and AMD 800 series mainboards (including 890GX/880G/870) all fully support the Unlock CPU Core function, not only boosting CPU performance by 104%,but also saving you money by investing in a triple-core instead of quad-core! BIOS updates for the next generation AMD Phenom II X6 CPU can also be fully supported – allowing you to effortlessly enjoy the extreme performance of AMD's upcoming 6 core processor.
Military Class Components Enhance Stability and Board Longevity
The MSI 890FXA-GD70 and AMD 800 series mainboards features server-grade Military Class components. Certified by the Department of Defense, these components ensure that you are using the highest grade components to power your board. Hi-c CAP (highly-conductive polymer capacitor), Solid CAP (solid capacitor), and Icy Choke (low-temperature inductors) fully enhance product lifespan, heat-resistance, and stability. The specific characteristics of Hi-c CAP are extreme heat-resistance, high stability, and high performance, offering 8X the lifespan of ordinary solid state capacitors. Icy Choke inductors are the result of the application of the latest materials and structural designs to deliver high heat resistance, low power consumption, and low noise. Compared to ordinary capacitors, Solid CAP offers a lifespan that can extend your board up to 10 years, not only providing admirable mainboard longevity, but also offering flawless performance and reduction crashes or lagging due to overheated hardware. These materials power defense systems and they are going to power your gaming system as well.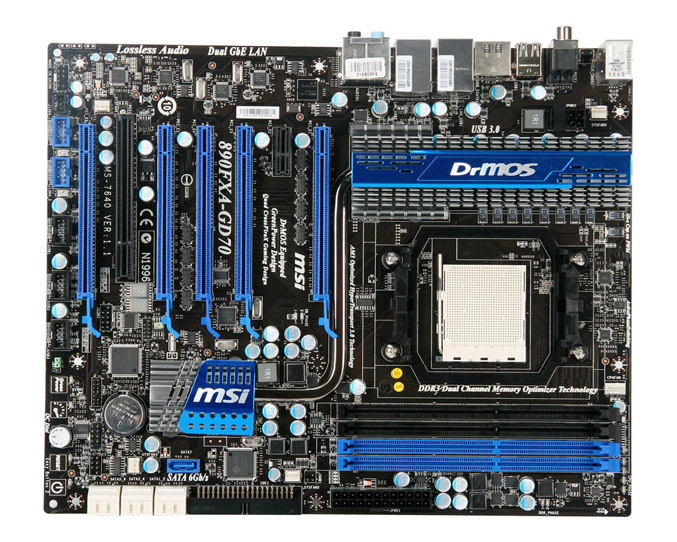 MSI's Exclusive OC Genie Intelligent Overclocking Function Offers a New Experience for Easy OverclockingTo meet the overclocking requirements of gamers, the MSI 890FXA-GD70 and AMD 800 series mainboards have MSI's exclusively designed OC Genie's automatic overclocking utility built in. Consumers don't need a deep knowledge of computing concepts and configurations; by utilizing the BIOS interface to allow automatic adjustment of the CPU clock, CPU performance will increase by 26% or more. Pair with the Unlock CPU Core technology and see boosts of CPU performance by up to 148% — the highest performance increase without hassle!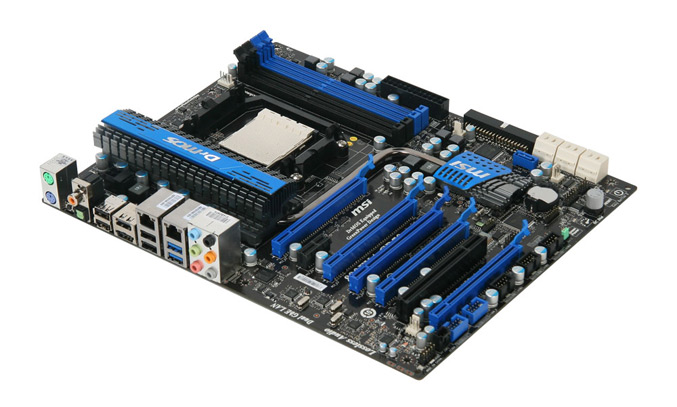 Unlock CPU Core Unleashes CPU Performance Potential
In a few easy steps, Unlock CPU Core can unleash a CPU's hidden core. When unlocking 2 cores to 4 cores, CPU performance increases by over 104%. With a dual core budget you can enjoy a major performance upgrade and astonishing quad core power – free.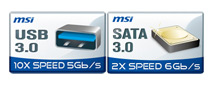 Built-In USB 3.0 & SATA 6Gb/s – A Huge Leap in File Transfer Speed
All MSI's AMD 800 series mainboards comes equipped with the USB 3.0 & SATA 6Gb/s, the latest standard in data transfer technology. Compared to traditional USB 2.0 transfer speeds, USB 3.0 offers 10X the data transfer performance. For instance, if a USB 3.0 interface is used to transfer a Blu-ray video, each section needs only 1 minute to complete a transfer. At the same time, the MSI 890FXA-GD70 natively supports SATA 6Gb/s, the next generation high-speed transfer technology, with a vast increase in transfer bandwidth. Also, SATA 6Gb/s offers double the bandwidth of traditional SATA II and accelerated data transfer speeds to fully meet stability and speed requirements of consumers. Be ready for the SSD hard drive revolution with SATA 6Gb/s ready motherboards!
The MSI 890FXA-GD70 and AMD 800 series mainboards integrate a number of exclusive technologies, outstanding specifications, and server-grade, military class components while doubling its ultra-powerful capabilities, extreme stability, and top-of-the-line overclocking performance. Power users cannot afford to miss out on this optimal AMD platform.
Source: MSI