NVIDIA has announced two new server video cards based on its latest Maxwell architecture but belonging to the company's Tesla line-up. The cards are called M40 and M4 and join the Tesla M60 and M6 cards, which were announced in August 2015.
The Tesla M40 brings a significant change – this is the first Tesla card to come with the famous GM200 GPU that carries 3072 stream processors, running at 1140 MHz. The GPU is accompanied by 12 GB of GDDR5 memory at 6000 MHz, accessed over a 384-bit memory bus. All this makes the M40 an almost exact copy of the GeForce GTX Titan X video card. A downside is that the M40 needs 250W of power but all this speed cannot come without some serious power consumption. The M40 reaches 7 TFLOPS of single-precision computational performance and 0.21 TFLOPS of double-precision performance.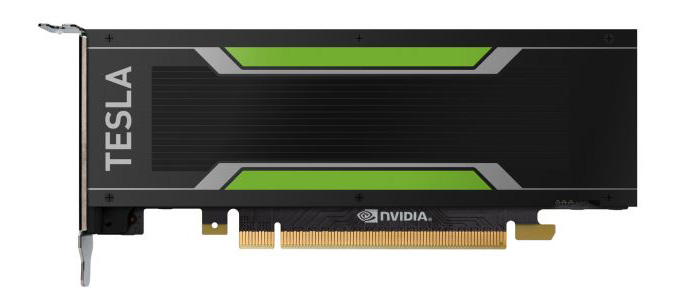 The M4 is a much smaller card compared to the M40 and in fact this is the first Tesla card to be released in a PCIe half-height low profile form factor. The M4 is based on the GM206 GPU and features 1024 stream processors at 1075 MHz, 4 GB of GDDR5 memory at 5500 MHz, a 128-but memory bus and 2.2 TFLOPS of single-precision performance. The double-precision performance of the card is 0.07 TFLOPS. The power consumption sits between 50W and 75W and due to this the M4 comes with passive cooling only. NVIDIA will offer different versions of the card with the fastest one having the tech specs listed above.
Both video cards will serve the machine learning market, which has become a point of interest for NVIDIA, which believes that machine learning is the next great frontier for GPUs that can now simulate and execute neural nets. The Tesla M40 will be on the market by the end of the year, while the M4 will be in stores in Q1 2016. NVIDIA has not disclosed any pricing details as of now.
Source: NVIDIA