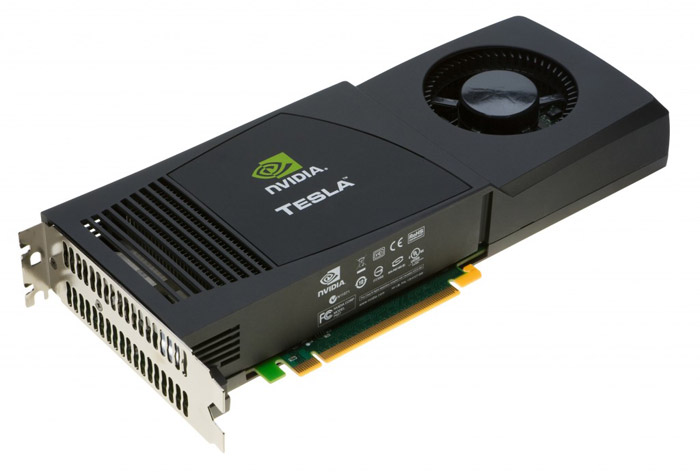 As with most high tech products NVIDIA Tesla K20 is still in the works but its specs have already been listed online. This time we'll find out what NVIDIA has prepared for all of us thanks to Heise.de – a German web site that appears to have gotten the specs of the Tesla K20 first.
Sadly, the upcoming NVIDIA product fails to impress – the Tesla K20 will have less memory that the older Tesla C2075 part thanks to Samsung and Hynix, which refused to manufacture new 4 Gbit GDDR5 chips, leaving NVIDIA to deal with 1 Gbit and 2 Gbit GDDR5 chips – and they found their way to Tesla K20. All in all the Tesla K20 will come with 6 GB of VRAM with 200 GB/sec of bandwidth with only 5 GB of VRAM usable if you enable ECC.
The chip powering Tesla K20 will come with 7.1 billion transistors on 28 nm technology and will have 13 SMX clusters enabled with 192 cores each for a total of 2496 CUDA cores. The processor comes with 15 SMX units but two of them have been disabled to improve yields, which means that down the road we may see Tesla K25 or K30 with full 2880 CUDA cores but this remains to be seen.
In addition Tesla K20 fails to achieve the target goal of 1.5 TFLOPS DP due to the fact the chip itself will run at just 705 MHz providing 1.17 TFLOPS of double precision performance. Still, Tesla K20 shines on the single precision front providing 3.52 TFLOPS but still lags behind AMD's Tahiti GL GPU, which does 4 TFLOPS of single-precision power. K20 also supports Dynamic Parallelism, Hyper-Q and GPUDirect with RDMA for better GPU loading in multi-chip systems. The TDP of the K20 is estimated to sit at 225 watts.
In case you are interested Tesla K20 will sell for 3199 USD.
Source: Kaldata.com