The dual-GPU offering by AMD, known so far as Radeon HD 7990, has been delayed and delayed for months and this fact itself may have made PowerColor angry on the issue. Now sources online suggest the company has working HD 7990 graphics cards (or Devil13 HD 7970 X2 as PowerColor may call them) that may debut as early as tomorrow.
The catch is that the PowerColor HD 7990 cards are all custom-designed and there won't be any other like them on the market. Moreover supply will be very limited and some analysts expect PowerColor to ship just several hundred of them. As the supply and demand law says limited supply calls for high prices and the PowerColor HD 7990 is not an exception – the graphics card is expected to cost at least 999 USD.
Specs are a secret as of now but hardware analysts expect the cards to feature 6 GB of GDDR5 memory (3 GB per graphics core) and two full Tahiti XT cores with 2048 stream processors each. Of course a large heatsink/fan combination will cool the card.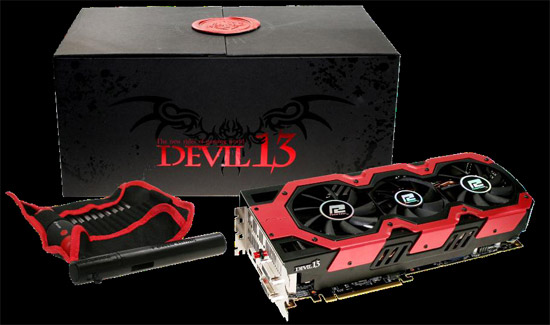 The working frequencies are also a mystery but dual-GPU cards often feature lower clock speeds than similar single-GPU cards. The PowerColor HD 7990 is expected to come with two graphics cores with each of them running at 925 MHz. Memory is expected to run at 5500 MHz, but PowerColor is said to supply two BIOS chips on the cards with the secondary BIOS allowing the cores to run at 1 GHz in order to better compete with the dual-GPU GeForce GTX 690.
AMD still hasn't said anything on the dual-GPU HD 7990 card but it seems the US chip giant has scrapped its plans for an official dual-GPU Radeon HD 7990 due to heat output, high production costs, complexity and limited market.
Source: Hardwarecanucks.com