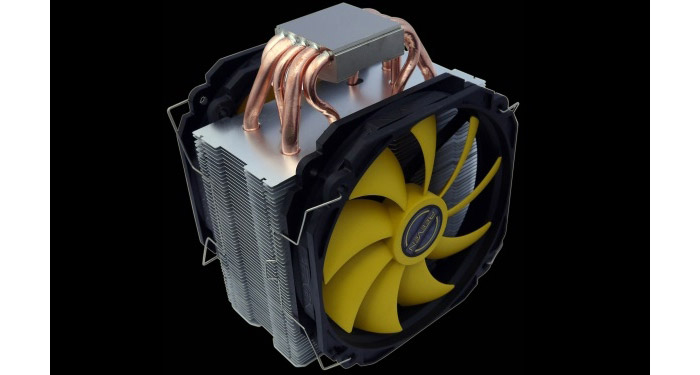 REEVEN is a company that few people have heard of but despite its short history the company strives to quickly make a name for itself by releasing high quality and powerful products. One such product is the RC-1401 CPU cooler – a powerful yet quiet cooler that will be joy to any overclocker out there.
The REEVEN RC-1401 is a huge cooler that measures 161 x 70 x 143 mm and weighs 820 grams without the cooling fan. Its huge size pays of though – the cooler uses a distinctively yellow 140 mm cooling fan that spins at 300 – 1300 rpm and pushes 46.2 – 172.2 cubic meters of air per hour at just 9.6-24.7 dBa of noise.
As to the cooler itself the REEVEN RC-1401 is a tower-sized CPU cooler that has five copper heat pipes (three 6 mm thick and two 8 mm thick) that get cooled by a large number of aluminum fins (and by the yellow fan, of course). The cooler supports all Intel LGA 775/1155/1156/1150/2011 processors and all AMD AM2/AM2+/AM3/AM3+/FM1/FM2 chips.
Pricing is unknown as of now. The new cooler is expected by the end of June 2013.
Source: Thinkcomputers.org