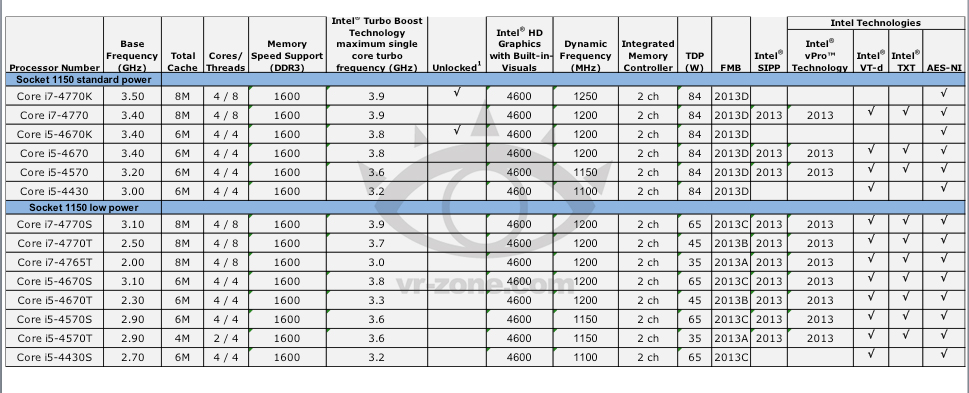 It has been a while since the first details on the upcoming Intel Haswell chip surfaced – we now know it will use the LGA1150 form factor and will offer unseen power efficiency as well as increased performance thanks to architectural tweaks – but no more details on models have surfaced so far – until now.
The Chinese version of the VR-Zone web site has leaked a list of upcoming Intel Haswell chips, which will be officially known as Intel Core 4th generation. A quick look at the list will reveal that the chips listed include Intel Core i7 and Core i5 models with standard and power efficient versions available. The chips will run between 2 GHz and 3.9 GHz in Turbo mode and almost all models with feature four cores (some models support Hyper-Threading too), 4 MB/6 MB/8 MB of total on-chip cache depending on model, support for DDR3-1600 memory and integrated Intel HD 4600 graphics.
Other specs include an integrated dual-channeled DDR3 memory controller, TDP that ranges between 35 watts and 84 watts, AES-NI instructions and a graphics core that runs between 1100 MHz and 1250 MHz.
The pricing and the official release date are still unknown.
(picture courtesy of VR-Zone)

Source: VR-Zone