Spire has added a new member to its family of CPU coolers – the TME III, which is the next evolution of the hugely successful TherMax Eclipse CPU cooler series.
The new CPU cooling solution features an increased number of heat pipes and also a higher number and density of dimpled fins coupled with two high airflow, Nano Bearing DC fans for extreme cooling performance. At the bottom five U-shaped 8 mm all-copper heat pipes are in direct contact with the CPU heat-spreader, which allows for rapid heat transfer to the 45 aluminum dimpled fins that provide a larger surface area for optimum heat dissipation.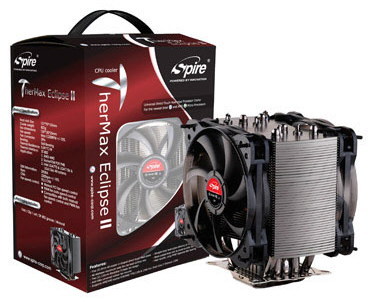 The TME III also comes with two 120 mm BlackStar 7 cooling fans that provide high airflow and sufficient cooling. The fans can be PWM controlled to provide the best ratio between cooling and noise. The TME III also supports all current PC platforms including AMD's socket 939/940/AM2 and AM3 and Intel's 775/1155/1156/1366/2011 sockets.
Source: Hardwarecanucks