The American Texas-based company Venray Technology has come up with a very innovative new processor technology that integrates a microprocessor into a DRAM memory module.
The main benefit of the new technology lies in the fact that performance will be immensely improved since the CPU is integrated in the memory and communicates with it via a very wide data path. At the same time energy consumption is also dramatically lowered since the processor must be built with the same production process used for the DRAM production. But this is not everything – the people at Venray Technology also claim that the integrated CPU will have a very low price compared to the cost of current microprocessors. According to analysts with Venray Technology the new technology will allow the energy consumption to be reduced 5-12 times, while the processor price will go down by 5-10 times compared to what ARM and x86 processors cost nowadays.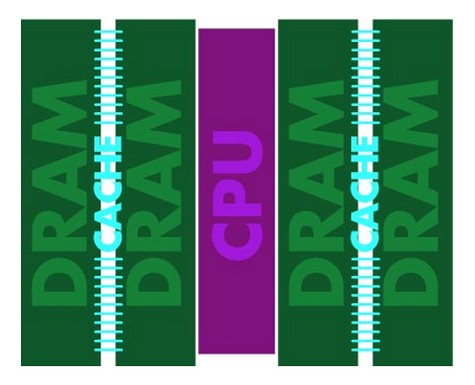 The new architecture has been called TOMI which stands for Thread-optimized Multiprocessor Instruction and has already found application in processors called Aurora and Borealis.
The new Aurora processor comes with four cores and 64 MB of integrated DRAM memory while the more powerful Borealis core features 8 cores and 1 GB of integrated DRAM memory. The Aurora is made using 110 nm technology and runs at 500 MHz and in regards to power consumption and cost it only consumes 23 milliwatts of power while cost is less than 1 US dollar.
But there's a catch… and experienced PC experts may have already seen it. The proposed cores are very simple compared to modern PC microprocessors. For example Aurora only consists of 22 000 transistors while modern quad-core processors made by Intel and AMD consist of hundreds of millions of transistors. This is the reason why while coming with relatively thin 110 nm technology the core only runs at 500 MHz. The limitations also come from the fact that in DRAM technology only three layers are used while in AMD and Intel CPUs the number of layers may reach 10-12.
The forced simplification of the cores has also killed features such as an integrated floating-point unit and branch prediction among other which sadly turns the TOMI architecture into a rather limited and specialized solution.
So it seems that ARM and x86 processors are here to stay.
Source: IXBT