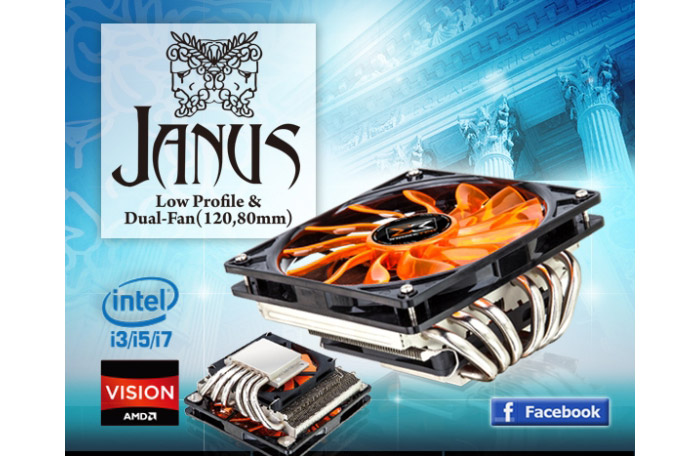 Cooler maker Xigmatek has announced the Janus cooler with enhanced design and very broad CPU socket support including the latest Intel LGA1150.
The Janus CPU cooler is based on a C-type aluminum fin-array design and has a mirror-polished copper base and six 6-mm heat pipes that transfer heat to the aluminum fin-stack, which is itself cooled by two fans. The top fan is a 10-mm thick 120 mm spinner, while the bottom fan measures 15 mm thick and has a diameter of 80 mm. The larger fan spins at 800 – 1200 rpm pushing up to 38 CFM of air while the smaller one works at 2000 rpm managing about 13 CFM.
The Xigmatek Janus measures 120 x 110 x 45 mm, weighs 430 grams and supports all modern CPU sockets including Intel LGA775/1150/1155/1156/1366/2011 and AMD AM3+/AM3/AM2+/AM2/FM1/FM2.
Pricing is unknown.
Source: Xigmatek