Razer™, the world's leading manufacturer of high-end precision gaming peripherals, is proud to announce the launch of the Razer Lycosa Mirror Special Edition and the Razer Arctosa, inspired by fusing both form and function into an ultra-sleek gaming keyboard. Both gaming keyboards retain the stylistic appeal and main features of the Razer Lycosa, with subtle differences to appeal to different gamer segments.
The Razer Arctosa is designed to cater to the minimalist gamer looking for the bare essentials in a gaming keyboard. The Razer Arctosa is a basic version of the Razer Lycosa without the backlight but enhanced with fully macro-programmable and media access keys.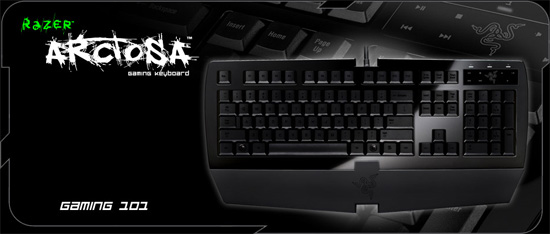 The Razer Arctosa comes available in the standard silver-printed key letters but also comes with a black on black edition for gamers who have achieved the art of gaming without looking at their keys.
The Razer Arctosa silver on black edition and the Razer Arctosa black on black edition will retail in November 2008 at global stores and online.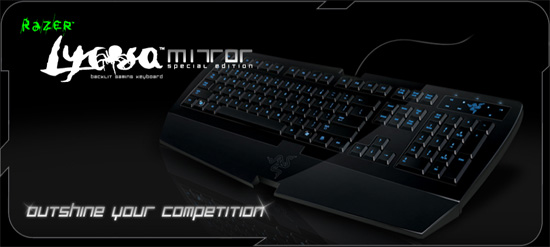 "The high-gloss mirror finish of the Razer Lycosa Mirror Special Edition will appeal to the stylistic crowd, while being powered by the exact technology which has catapulted the Razer Lycosa into one of Razer's core-selling products," said Robert "Razerguy" Krakoff, president of Razer. He continued "The Razer Arctosa's black on black version is a tribute to style personified. It's a basic gaming keyboard which also looks awesome with any gaming rig."
About the Razer Group
Headquartered in Carlsbad, California, Razer™ collaborates with gamers to develop, manufacture and market cutting-edge gaming peripherals utilizing proprietary technologies that give gamers the competitive edge. Razer products have earned critical praise and won multiple awards from around the world for their precision, sensitivity, usability and distinctions in product design. Razer's products have a reputation for being the leader in gaming peripheral technology, with every single product engineered to near perfection. For more information, please visit www.razerzone.com.