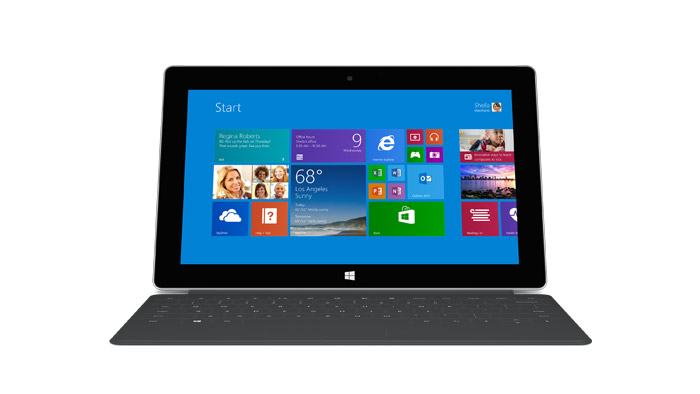 US software and hardware giant Microsoft has presented the second generation of its Surface tablets. As expected the Surface 2 is based on ARM technology while the Surface 2 Pro is based on x86 technology.
The Surface 2 Pro tablet offers more raw power and comes with an Intel Core i5 Haswell chip and Windows 8.1. The tablet sports a 10.6-inch display at Full HD resolution; the display is also capable of reproducing 50 per cent more colors than its predecessor. The rest of the hardware includes 4 GB or 8 GB of dual-channeled DDR3-1600 memory, a 128 GB/512 GB SSD, 802.11n Wi-Fi, LTE (optional), a USB 3.0 port, two USB 2.0 ports and a mini-Display port. The base version of the Surface 2 Pro with 4 GB of RAM and a 128 GB SSD starts at USD 900.
The Surface 2 sports an NVIDIA Tegra 4 SoC and runs Windows RT 8.1. It also has four Cortex-A15 cores at 1.9 GHz, 2 GB of LPDDR3 memory and 32 GB or 64 GB of storage. Depending on the model the Surface 2 will sport Wi-Fi and LTE or Wi-Fi only. It also offers two cameras – one at 5 MP and another at 3.5 MP. A small advantage is that the Surface 2 comes with Microsoft Office RT 2013 and works for up to 10 hours with a single battery charge.
The Surface 2 starts at USD 450 and up. Both models will be on the market on October 22.
Source: Microsoft