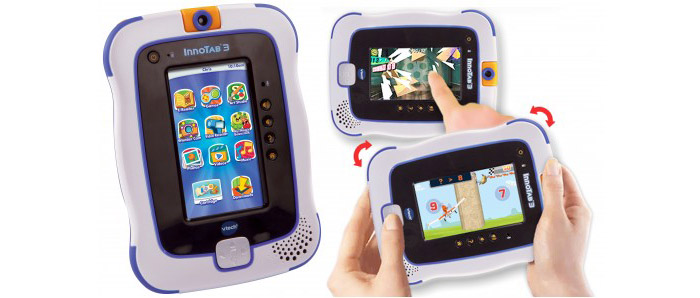 Technologies affect children for sure and while a few years ago a kid with a cell phone was an unusual sight today almost all children out there have their personal mobile phones. With tablets entering our world more and more we will soon see a lot of children with personal tablets as well – and the company Vtech will help achieve this thanks to its new InnoTab 3 tablet – created especially for your little ones.
The InnoTab 3 comes with a rugged chassis (not surprisingly given how kids treat electronic devices) and sports a 4.3-inch sensor display, 2 GB of RAM, a microSD/SDHC card slot (up to 32 GB), a rear 2 MP camera, a front 0.3 MP camera, a microphone and a built-in speaker. Two AA batteries power the tablet with the retail box offering two rechargeable batteries.
The InnoTab 3 comes with preloaded educational software and 15 applications that teach children while they play. There's no word on the operating system running the device but given its price – just USD 70 – we can easily forgive this.

Source: Gizmag.com