WD®, the world's leader in external storage solutions, expanded its My Book® family of external hard drives to include a 2 TB capacity, the largest available capacity in a single-drive system. With its wide variety of models, WD offers a solution for every type of user, whether they're a creative power user on a Mac® or a home user on a PC. The new 2 TB My Book family includes: My Book Studio Edition™, My Book Mac Edition, My Book Home Edition™ and My Book Essential Edition™ models.
Market research shows that consumer creation and acquisition of digital media is growing rapidly, driving demand for increasing storage capacities. According to market research firm IDC, the number of digital cameras and camera phones in the world surpassed 1 billion (Mar. 2008). Separately, market research firm GfK reports that HD (high definition) video camcorders are experiencing record growth and now account for 42 percent of total camcorder sales (Aug. 2008). HD video requires massive amounts of drive space: at least 8 GB per hour of video. Since 2006, when Apple® began offering movie downloads, the Apple store has already sold more than 250 million TV episodes and sold or rented more than 33 million movies (Apple, Mar. 2009).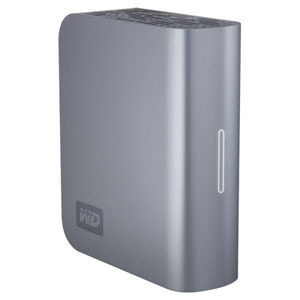 "The popularity among consumers of high-definition video cameras, digital photography and digital music downloads means that users are filling up their computers with massive amounts of digital content as fast as they can click 'save.' As the volume and value of users digital content grows, backing up data on multiple CDs or DVDs becomes time consuming and inconvenient. At the same time, consumers are realizing the monetary and emotional value of content and need to back up their most important files. The My Book family, with its massive 2 TB capacity allows users to backup all their data in one easy step and keep it in one easily accessible place," said Jim Welsh, senior vice president and general manager of WD's branded products and consumer electronics groups.
My Book Studio Edition & My Book Mac Edition
Formatted1 for Mac computers, these drives are an ideal solution for creative professionals and video editors. The My Book Studio Edition is equipped with high speed FireWire® 400/800 and eSATA interfaces as well as the popular USB 2.0 interface and a 5-year limited warranty. My Book Mac Edition external drives feature a USB 2.0 interface and a 1-year limited warranty.
My Book Home Edition
Equipped with continuous backup software and high-speed eSATA and Firewire 400 as well as USB 2.0 interfaces, My Book Home Edition carries a 3-year limited warranty. My Book Home Edition is designed for PC users that need an effortless way to preserve digital pictures.
My Book Essential Edition
My Book Essential Edition offers an easy way to add storage capacity to home or office computers. The drives are equipped with a USB 2.0 interface that provides convenience and compatibility among multiple computers.
The entire family of My Book external hard drives features:
New 2 TB capacities allowing users to store and backup all their data in one central location;

Elegant, small footprint design;

Capacity gauge to see at a glance how much capacity is available on the drive (not available on the My Book Essential Edition drive);

Environmentally friendly design that saves power by going into standby mode after 10 minutes of inactivity;

SmartPower™ features that turns the drive on and off with the computer and Safe Shutdown™ that prevents the drive from being powered down until all the data has been written2;

Kensington® Security Slot that allows users to secure drive to their desk with the separate purchase of a Kensington lock kit; and,

1-year limited warranty.
Availability and Pricing
The My Book Studio Edition, My Book Home Edition and My Book Essential Edition 2 TB external hard drives are available now at select retail stores and online retailers. My Book Mac Edition 2 TB external drives will be available next month. Estimated pricing ranges from $329.99 USD to $379.99 USD, depending on drive model and capacity.
Source: Western Digital