Sprint announced today that will launch  Eco-Friendly Samsung Reclaim phone on August 16th. This  "green phone" is constructed from eco-friendly bio-plastic materials, which are 80 percent recyclable.
"Reclaim is the most full-featured QWERTY phone launched by Sprint at less than $50. It will be available on August 16 in all Sprint retail channels, including Best Buy, Radio Shack, Web (www.sprint.com) and telesales (1-800-SPRINT1) for just $49.99 with a two-year service agreement after a $30 instant rebate and a $50 mail-in rebate (taxes and service charges excluded). It will be available at Wal-Mart in early September.
When customers purchase Samsung Reclaim from Sprint, $2 of the proceeds will benefit The Nature Conservancy's Adopt an Acre program, which supports land conservation across the United States and protects some of the world's most beautiful and important natural habitats."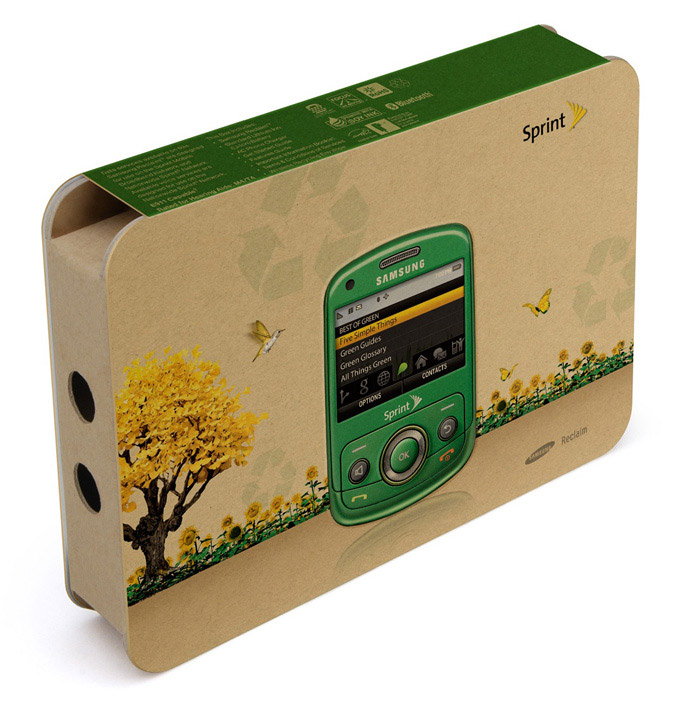 "This generous donation from Sprint will help us protect and restore some of America's most beautiful and ecologically-important landscapes for future generations to enjoy," said Mark Tercek, president and CEO of The Nature Conservancy. "We applaud Sprint's sustainability efforts, as innovation and new technology are crucial to the future of conservation."
Samsung Reclaim features:
a slide-out full QWERTY keyboard making it easy to access personal or corporate email as well as text and multimedia messaging;
Sprint Navigation with Search, providing easy access to directory information and GPS-enabled directions;
2 megapixel camera with 3x digital zoom and camcorder;
advanced stereo Bluetooth® 2.0;
expandable memory storage up to 32GB;
an integrated Web browser; and
two color options – Earth Green and Ocean Blue.
Source: Sprint