LG Electronics MobileComm U.S.A. Inc and Verizon Wireless announced today that the LG Fathom will be available in the business sales channels of Verizon Wireless starting on the 27th of May. The smartphone will be also available online and in Communications Stores starting on the 3rd of June.
The LG Fathom redefines the productivity of the Windows-Based Phone power, being the ultimate on-the-go office. LG Fathom has a new stylish design and smart global capabilities for making voice calls in more than two hundred and twenty countries around the world. It can also access data in two-hundred countries and one-hundred and ten with 3G speeds.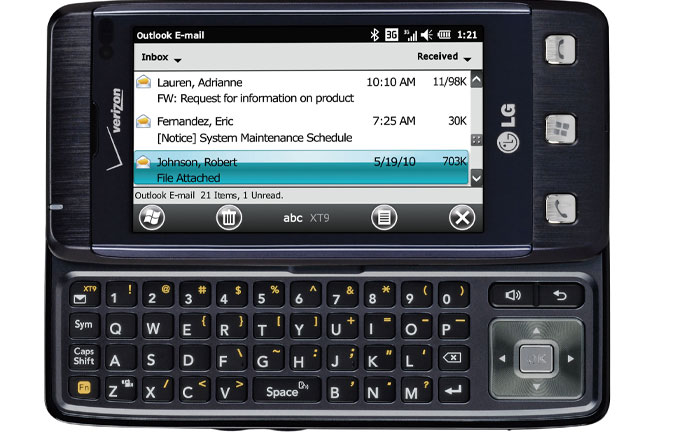 Key features:
* Sleek slate blue case takes customers from Monday meetings to Friday outings
* Large 3.2" touch screen with Improved Touch Experience and vibration for tactile feedback
* 1 GHz processor
* Full slide-out QWERTY keyboard with simultaneous touch screen capabilities
* microSD™ slot for up to 16 GB of memory
* Wi-Fi® enabled (802.11 b/g/n)
* Bluetooth® 2.1 capabilities with support for the following profiles: headset, hands-free, dial-up networking, stereo, phone book access, basic printing, basic imaging, object push for vCard and vCalendar, file transfer, and serial port
* Built-in MP3 and WMA music player with music library, repeat and shuffle features, as well as stereo sound via headset or Bluetooth
* Windows® Media Player 10 Mobile and video player for WMV, MP4, and 3GP formats
* USB mass storage for file transfer between microSD card and PC
* One-touch speaker phone and speaker-independent voice commands
* Text to speech and voice-activated dialing for up to 4,000 entries
Additional lifestyle features:
* Dedicated task manager key for quick access to mobile Task Manager
* Windows Mobile Device Center and ActiveSync allows users to synchronize Outlook®, Office® and contents from Microsoft Exchange Server® to keep personal information organized and updated
* View and edit with Excel® Mobile, OneNote® Mobile and Word® Mobile or view important presentations with PowerPoint® Mobile
* Scroll, zoom and view rich PDF content with Adobe® Reader LE
* Global roaming frequency automatically switches from CDMA/EVDO to GSM/UMTS depending on geographic location
* VZ Navigator® capabilities – Receive audible turn-by-turn directions to millions of points of interest and share the directions with others
* VZ Navigator Global capabilities – Get turn-by-turn directions and maps in English while navigating through more than 20 destinations such as Canada, Mexico, France, Germany, Italy, Norway, Spain, Sweden and the United Kingdom. This easy-to-use application also marks distances in miles or kilometers and finds restaurants, gas stations, banks/ATMs and other popular spots using the Local Search feature
* Wireless manager enables and disables wireless connectivity for Wi-Fi, Bluetooth and cellular network
* Luminous sensor designed to adjust LCD backlight brightness depending on light conditions
* Proximity sensor instantly locks touch screen buttons while talking on the phone
* Text and send clear images and fun animations through Flash User interface support
* International charger plus up to four different adapter clips for multi-country use
* 3.2 megapixel autofocus camera and camcorder that includes:
– Five different camera resolutions and three different video resolutions
– Macro Mode for detailed, up close pictures
– Panorama for three guided, sequential shots
– Continuous shot for up to six consecutive photos
– Scene mode for auto, portrait, landscape, sports and night settings
– Image editor with zoom, rotate, resize, crop, added frames and stamps
– Customizable brightness, white balance, shutter sounds and color effects and a self-timer
– Choose between mute and unmute to record video with or without sound
– Optimize video quality with normal, fine or super camcorder settings
– Video recording time up to one minute for sending or up to one hour for saving
LG Fathom Customers will need to subscribe to a Verizon Wireless Nationwide Talk plan and an Email and Web for Smartphone plan. The plans "Nationwide Talk" start at $39.99 with monthly access. The Email and Web plans start at $29.99 for unlimited monthly access.