Samsung Telecommunications America (Samsung Mobile)1 announced today the availability of the Samsung Propel™ Pro, a chrome slider smartphone powered by AT&T's 3G network, the nation's fastest, and the Windows Mobile 6.1 operating system.
The Propel Pro, the next generation smartphone from Samsung Mobile, is a compact slider that opens to reveal a full QWERTY keyboard that makes sending text messages and e-mails quick and simple. The Propel Pro's joystick, located in the center of the device between the right and left soft keys, provides users with a unique and seamless way to navigate through menus and messages.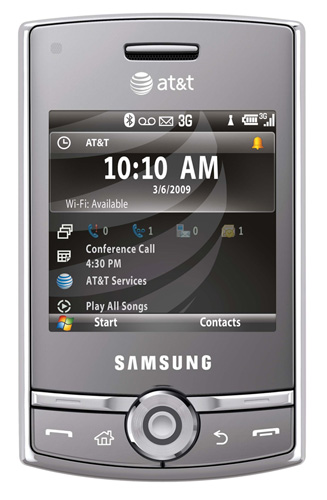 "The slider design with built-in QWERTY keyboard of the Samsung Propel was a very popular form factor for us," said Bill Ogle, Chief Marketing Officer, Samsung Telecommunications America. "The new Propel Pro takes that compact design and adds the power of a smartphone making it ideal for users who want to take their business with them."
The Propel Pro allows users to access multiple e-mail accounts with Microsoft Direct Push for corporate users and AT&T Xpress Mail, which includes access to most major personal e-mail accounts. The Propel Pro also offers over-the-air synchronization of contacts, calendars and task lists with Microsoft Exchange Server or Xpress Mail and support for Good Mobile Messaging.
The Propel Pro provides users with the familiarity of their personal computer in a compact, sliding device. Browse the Web with Internet Explorer Mobile, sync schedules and contacts with Microsoft Office Outlook Mobile and manage Word, Excel and PowerPoint documents with Office Mobile – all while staying connected to friends and family. Windows Mobile 6.1 Standard also features threaded SMS messaging, Internet connection sharing, mobile banking and Voice Command.
The Propel Pro also supports Microsoft's System Center Mobile Device Manager 2008, an enterprise-grade mobile solution for managing and securing Windows Mobile 6.1 phones. Mobile Device Manager provides administrators with software distribution and update capabilities and employees with security-enhanced access to company data while they are away from the office.
"People want phones that give them access to information they need to be as efficient on the go as they are in the office," says Grace Ho, director, Microsoft Corp. "The Propel Pro combines the familiar Windows experience, including Office Mobile applications, with an attractive form factor to meet the needs of today's mobile workforce."
Built-in GPS technology allows you to access AT&T's location-based applications, including AT&T Navigator, which provides GPS-enabled turn-by-turn voice and on-screen driving or walking directions, colorful 3-D moving maps and traffic-delay alerts with one-click rerouting. Additionally, Mobile Banking on AT&T allows you to check balances, transfer funds, view and pay bills and perform other financial tasks from your device. The business card reader allows users to take a picture of a business card and save the information in their Outlook Contacts. The Propel Pro also features AT&T Video Share, CV (Cellular Video), MobiTV and AT&T Mobile Music.
Additional features of the Propel Pro include Wi-Fi® (802.11 b/g), global capabilities, stereo Bluetooth® technology, with stereo headset support, a 3.0 megapixel camera with video-capture capabilities, Windows Media Player 10 Mobile and microSD™ memory card slot for external storage of up to 16GB of data.
The Samsung Propel Pro will be available today through select AT&T retail locations or at www.wireless.att.com.
Source: Samsung