One of the most popular instant messaging service,  Windows Live Messenger is now available via Nokia Messaging Chat application. Now you can chat with your friends worldwide simultaneously and send them this news too of cource:)
The world's most popular instant messaging service, Windows Live Messenger, is now available via Nokia Messaging. Accessible through the Nokia Messaging Chat application, people worldwide can have multiple conversations simultaneously, change their status and personal messages, and manage their Windows Live buddy lists straight from their homescreen.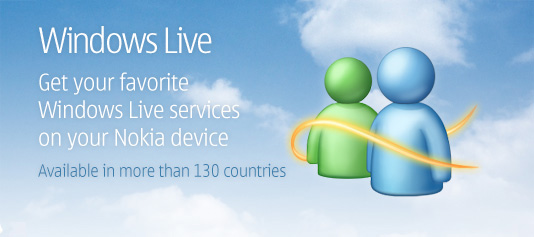 "This first installment of Windows Live™ Messenger for Nokia Messaging includes tabbed chat windows, the ability to call directly from the buddy list, and notifications of new messages that pop up while the application is in the background making multitasking even easier. 'Invisible' login is also an option, which means you can sign in to Windows Live™ Messenger but still appear offline to your friends – making it easy to choose who you want to talk to. Familiar desktop features such as grouped contacts, emoticons and sounds are also available."
Key features
Chat with your friends on the Windows Live Messenger, Yahoo!® Messenger, Google Talk and Ovi communities
Quickly navigate through multiple conversations across different communities
Background notifications of new IMs for true multitasking on your phone
Familiar and integrated community experience: Yahoo and Google specific emoticons, graphics, and sounds
Rapidly set status and availability, and login invisibly – choose who you want to talk to
See your Ovi friends' avatars and set your own
Save conversations to remember your chat sessions
While the Nokia E72 is the first device that comes with Chat and support for Windows Live  Messenger, Nokia E63, Nokia E71 and Nokia E75a  download of 'Nokia Messaging for IM' from Ovi Store. Alternatively, visit Nokia Beta Labs.
Source: Nokia Bulletin