Samsung America Inc. has announced details and availability of its new accessories lineup for its smart TVs. The line includes wide range of products like, wireless-N router and wireless LAN adapter, 3D active glasses and wireless charger for them, high-definition TV camera and dual-sided, multi-directional QWERTY TV Remote for easy access to content on your TV.
The wireless remote control has an LCD screen and full physical QWERTY keyboard, to allow you easier way to access and interact with the TV, and searching for movies and updating your social status, while on the other side has standard remote buttons. When is used as a standard remote, it automatically disable the keys on the other side so you wouldn't need to worry about accidentally hitting any buttons. The QWERTY TV Remote is bundled with all D7000 and D8000 HDTV models, and is also compatible with LED series D6300, but sold separately. Available April for $99.99.
Another interesting accessory for your Samsung HDTV is the HD Smart TV camera called CY-STC1100, which will let you make widescreen video calls from the comfort of your living room. It is about a half an inch thick, Skype compatible and is designed to work in all lighting conditions without any additional headset and packs four high-fidelity microphones to capture voices up to 13 feet away regardless of ambient noise.
Samsung also presents four new models of 3D active glasses, as well a wireless charger (CY-SWC1000A) which is capable of charging up to four rechargeable 3D active glasses at once. It features glossy black cylinder form, has a LED indicator for charging status  and is available for $199.99.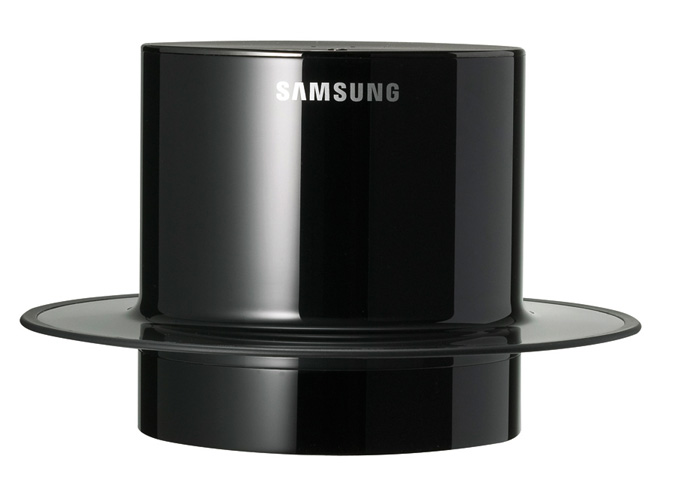 As for the new 2011 3D active glasses, they are compatible only with 2011 3D TVs. The SSG-3700CR model, which Samsung claims is the world's lightest pair of active 3D glasses (weighing about one ounce),  features ergonomic design with flexible 'legs' and nose pad. The 'legs' can fit over regular glasses and consumers can choose to clip on customized prescription lens, they will cost you $219.99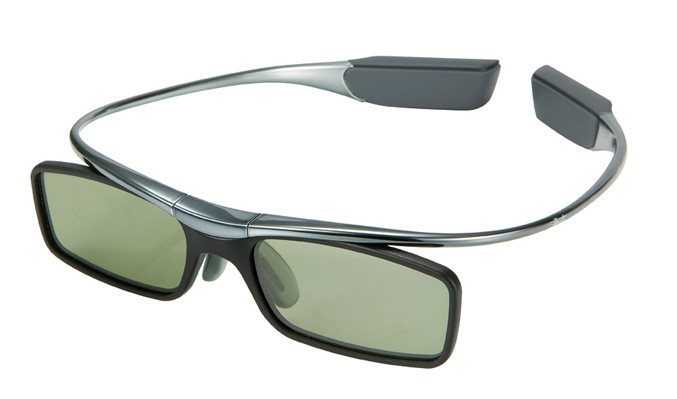 Samsung also said that the new models were reengineered to deliver "superior image quality", the LCD response time was reduced to  improve the contrast ratio and generate more vivid pictures with less cross-talk (ghosting) and viewing fatigue. The glasses have embedded sensors which automatically turn on the glasses when worn and power off when motion or touch is not detected, plus the SSG-3700CR, SSG-3300GR and SSG-3300CR have an indicator on the side of the glasses that informs users of approximate battery life.
Pricing and Availability
Description
Estimated Selling Price
Availability
3D Active Glasses
SSG-3100GR
Battery-operated 3D active glasses
$129.99
March 2011
SSG-3300CR
Compact Size Rechargeable 3D active glasses (prescription ready)
$179.99
March 2011
SSG-3300GR
Rechargeable 3D active glasses
$179.99
March 2011
SSG-3700CR
Ultra-light rechargeable 3D active glasses (prescription ready)
$219.99
March 2011
TV Accessories
RMC-QTD1
QWERTY TV Remote
$99.99
April 2011
CY-SWC1000A
Wireless 3D glasses charging station
$199.99
March 2011
CY-SWR1100
Simultaneous Dual-Band Wireless-N router with One Foot Connection and priority QoS
$149.99
March 2011
CY-STC1100
SKYPETM video camera
$169.99
March 2011
WIS09AGBNX/XAA
Wireless USB LAN Adapter (Linkstick)
$79.99
March 2011
Wall Mounts
CY-ATB10/ZA
Sound bar wall mount
$29.99
March 2011
WMN2000A
Ultra-slim wall mount (32~40"  LED)
$199.99
March 2011
WMN2000B
Ultra-slim wall mount (46~60" LED,  51" Plasma)
$199.99
March 2011
WMN2000C
Ultra-slim wall mount (65"  LED, 59"+ Plasma)
$199.99
March 2011
HDMI Cables
CY-SHC1010D
High-speed 1m HDMI cable
$59.99
March 2011
CY-SHC1020D
High-speed 2m HDMI cable
$69.99
March 2011
CY-SHC1030D
High-speed 3m HDMI cable
$89.99
March 2011
CY-SHC1050D
High-speed 5m HDMI cable
$109.99
March 2011
CY-SHC5010D
High-speed ultra-slim 1m HDMI cable
$79.99
March 2011
CY-SHC5020D
High-speed ultra-slim 2m HDMI cable
$89.99
March 2011
CY-SHC5030D
High-speed ultra-slim 3m HDMI cable
$119.99
March 2011
CY-SHC3010D
High-speed swivel head 1m HDMI cable
$69.99
March 2011
CY-SHC3020D
High-speed swivel head 2m HDMI cable
$79.99
March 2011
CY-SHC3030D
High-speed swivel head 3m HDMI cable
$99.99
March 2011
CY-SHC7010D
High-speed premium 1m HDMI cable
$99.99
March 2011
CY-SHC7020D
High-speed premium 2m HDMI cable
$119.99
March 2011
CY-SHC-7030D
High-speed premium 3m HDMI cable
$149.99
March 2011
Source:Samsung