If you're from the Panasonic HDTV owners, now you can make free Skype-to-Skype calls directly from your sofa using a specially-designed Panasonic HD Communication Camera TY-CC10W, sold separately as an accessory.
The camera can broadcast HD pictures in 720p (max 22 fps at HD, 30 fps at VGA mode), and also includes 4 unidirectional microphones that can easily pick up sound from couch-distance, so all members of the family, even your dog can take part in conversation. The Panasonic HD Communication Camera, TY-CC10W is now available for $169.95.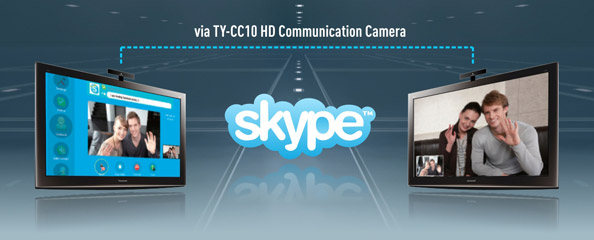 Skype is a new addition to Panasonic's VIERA CAST, an innovative feature on the TV which gives you access to YouTube, Eurosport, Google's Picasa Web Albums and many more new services directly from a VIERA TV without using a computer.
Skype compatible TVs
Panasonic VT20 3D TV
Panasonic V20
Panasonic Viera TX-P42G20
Panasonic D28 (32-inch and 37-inch)