MSI Affiliate–Funtoro Inc. launched the newest Multi-media On Demand System in the world–FunStar Professional. This product owns the special design of entertainment system as in flight cabin, integrating with an idea of mobile office to make your car become the most luxurious entertaining and mobile office!
With unique patented multimedia technology, we are the First Multi-media Entertainment On Demand System in car and support 6 to 12 independent zones simultaneously. Everyone owns the monitor to enjoy their movie, photo, music, AV game, USB playback and without interfering the contents others are playing.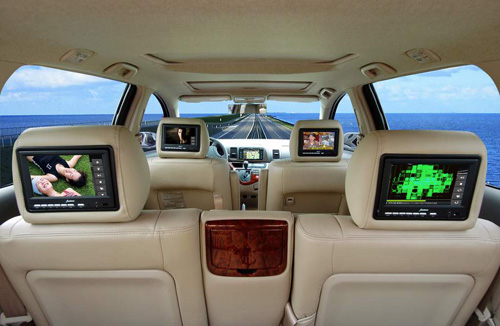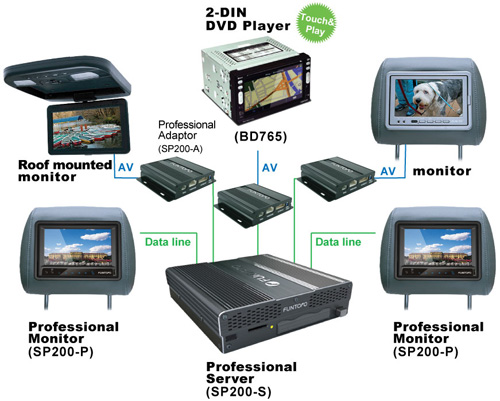 Besides, instead of complicated device, all the monitors of this system embedded with touch sense, are very easy for users to control. Above all, this system is applicable to any types of vehicles, each passenger owns his independent zone to enjoy and experience the rich and quality entertainment in car and internet access all the time.
1.Server-Client Entertainment System
-Many True On-Demand Clients (Up to 12)
-Multi-Media and Legacy AV playback
-Local Playback by USB & AV-IN Inputs
2.Easy to Use
-Integrated TOUCH HMI
-Optional Remote controller
3.Patented "Never Stop" Technology
-Auto Recovery (Watchdog)
-Dual Boot
-Last Good
4.Intelligent peripheral integrations
-Tire Pressure Monitoring System (TPMS)
-Car information by OBDII
5.Integrated Language Learning System
-Chinese electronic flashcards and bilingual contents are embedded in your car entertainment system (Supported by Quick Language Learning Inc.Ltd.)
-Easy to learn Chinese fast in car no matter what language you use
With our product in car, you can enjoy not only quality entertainment as in flight cabin but integrate with traveling safety like TPMS and Car Information Systems, so considerate to satisfy your family and passenger's needs. No matter in travel or business, all of them can have a very good time without worry of safety!
Source: Press Release