Washing your hands after using the restroom is standard protocol, but not everyone does it. And what about washing your hands after each time you touch your cell phone? It's a little bit overstated, isn't it?
Actually it isn't.  According to U.K research, 16% of the cell phones are contaminated with fecal matter in the form of E.coli. Cell phones are warm, which makes them a great breeding ground for bacteria. With the advent of touch-screen phones, the same part of the phone that you touch with your fingertips is pressed right up against your face and mouth, upping your chances of infection.
Our immune system also can be a victim of the bacteria hidden on iPods, keyboards, mouses and TV remotes we are in contact with.
After reading this, maybe you will be happy to know that there are some gadgets and accessories that can kill germs.
DIRECTV Anti-Microbial Remote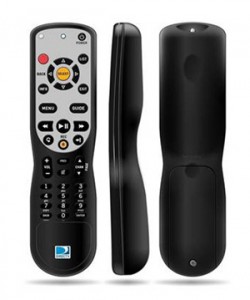 Microbiologists said that the remote is often the most germy object in the room. As part of DIRECTV's new "Residential Experience for Hotels" package, the company designed its first anti-microbial TV remote. Its coating doesn't change the feel of the remote, but adds up to 99.99% protection from germs, fungi and mold.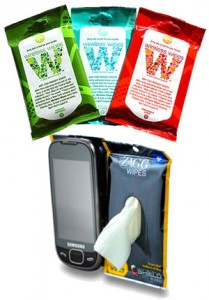 Wipe the germs away
These Wireless Wipes are designed to clean cell phones, PDAs, and laptops. They dry very fast and in this way prevent damage from moisture. You can choose from a various scents like Pomegranate Citrus, Rosemary Peppermint and Green Tea Cucumber.
Cyber Clean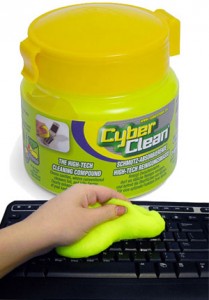 It is time to try a high-tech cleaning compound Cyber Clean. It's proven that Cyber Clean kills 99.99% of the germs. Press it onto your keyboard and when pull it away, it takes with it any dirt. Cyber Clean can be used on any device with cracks and crevices like phones , remotes, stereos, cameras, computers and even computers bag. It can be reused, but when its color turns from yellow to green, it is time to get new one.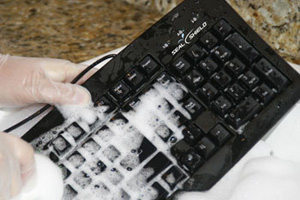 Washable Keyboard
Washing your keyboard will surely remove all the germs, but before you dip your keyboard into a soapy water, make sure it is washable. This keyboard is made of antimicrobial material to prevent mold, mildew, and fungi from growing. It doesn't include USB plug, so can be fully immersed in water.
Washable Mouse
To keep your work area free of germs, get a washable, waterproof mouse. With an ergonomic design, opticaltechnology,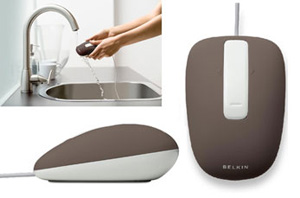 and a versatile one-touch scroll pad, the 1200 dpi Belkin F5L007-SCROLL Washable Mouse has a water-resistant design that you can hand-wash under a running faucet.
Source: pcmag