Kopin® Corporation , the largest U.S. manufacturer of microdisplays for consumer, industrial and military applications, today introduced and demonstrated Golden-iTM concept,
a lightweight (three-ounce) Bluetooth headset providing a 15-inch virtual PC display with a hands-free natural speech recognition interface for wireless remote control over an array of host devices including cellular phones, PCs, company networks and wireless systems. Golden-i readily accepts conventional user interface from any host device touch screen, keyboard or wireless mouse.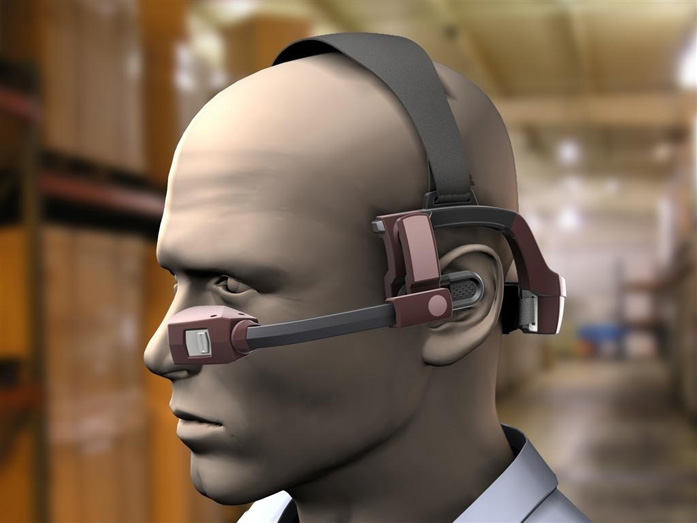 Golden-i is designed to provide spontaneous access to virtually any information around the globe. Initial Golden-i product development has focused on industrial applications. Concept and evaluation units are being demonstrated at Microsoft's Tech-Ed Conference booth – May 11-15 at the Los Angeles Convention Center.
Golden-i provides users the ability to command and control wireless devices and networks by natural speech recognition. Leveraging the wireless devices and networks all around us, Golden-i provides hands-free spontaneous access to all digital information, broadcast programming and Internet services, including real-time, full-color D-1 high resolution (720 x 480p x 30 fps) streaming video over industry standard Bluetooth 2.0 which was developed in partnership with BlueRadios, Inc.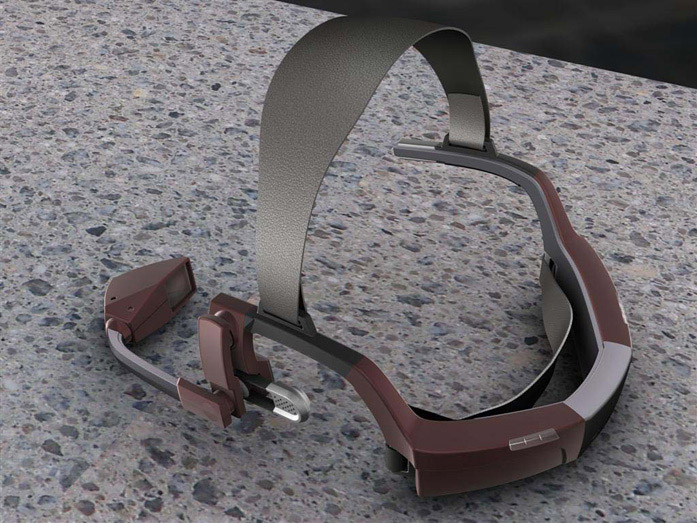 Running the 32-bit native, componentized, hard real-time Microsoft Windows® Embedded CE 6.0 R2 operating system, Golden-i is capable of remotely waking a PC from practically any location. After Golden-i establishes a Bluetooth, WiFi or cellular link through a host device, users will see their PC desktop screen on a 15-inch virtual display, offering full hands-free access to all PC applications, data files and services. When work is finished, the PC can be placed in hibernation with a single spoken command. With Golden-i, users will no longer need to carry a PC or laptop everywhere they go.
"When producing a device for ubiquitous and spontaneous mobile access to almost any device or database on the planet, there isn't a better solution or richer application environment than that provided by Microsoft," said Dr. John C. C. Fan, Kopin's Chief Executive Officer. "Microsoft has become an integral part of Kopin's Golden-i Development Team, and we look forward to working with the company's next generation Windows platforms."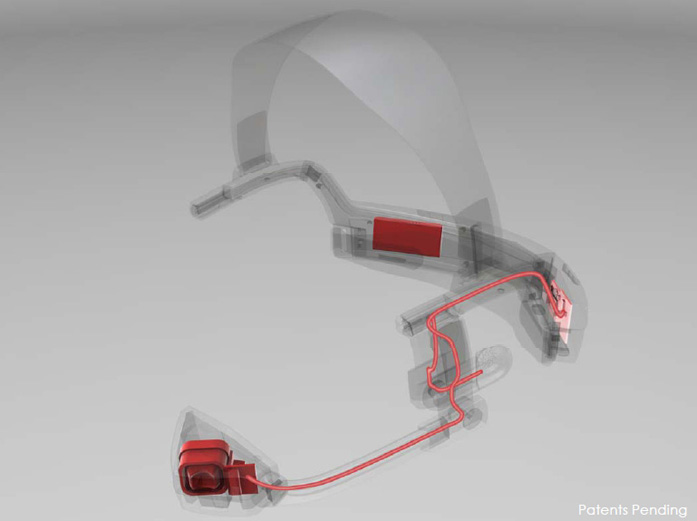 Golden-i is designed for mobile information snacking and may very well prove to be a game-changing computing accessory.
"We are delighted to work with Kopin and partners throughout our entire ecosystem to drive innovation in the embedded industry and fuel the smart, connected, service-oriented devices of the future," said David Wurster, Sr. Product Manager for Windows Embedded CE at Microsoft. "Golden-i utilizes the Windows Embedded CE 6.0 R2 platform to provide users with a rich, connected experience, and we are excited to contribute to the unique mobile communications and computing experience Kopin's device provides its end users."
Golden-i achieves its superior low-power performance with Texas Instruments' (TI) most advanced third generation OMAP dual processor platform. "Texas Instruments' latest OMAP is an incredible mobile processing platform," said Jeffrey Jacobsen, Kopin Senior Advisor and Golden-i Program Manager. "Golden-i is a high-performance device and can push OMAP's mobile performance to the edge – 600 MHz ARM Cortex 8, 400MHz DSP, a 10 million polygon/second graphics accelerator with high performance POP (package on package) memory reaching several gigabytes. Yet with energy conservation programming, our current testing suggests Golden-i will achieve over eight hours of standard use with a single 1200 mA/hr Li-ion battery."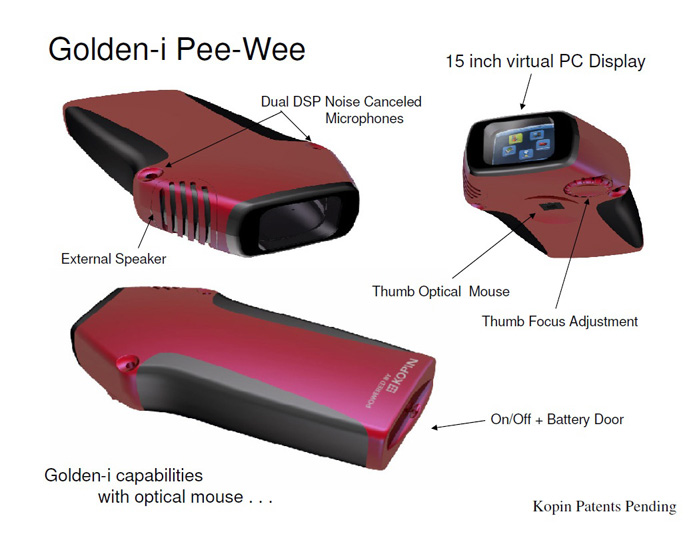 "Support for Kopin's Golden-i builds on TI's history of providing unparalleled performance at power-sipping levels for embedded and portable computing products with our OMAP 3 technology. Kopin takes full advantage of TI's feature-rich hardware and software platform as well as our 65nm CMOS process to meet the rigorous performance demands of Golden-i without sacrificing power consumption," said Kevin Hawkins, OMAP 3 Marketing Manager, TI. "We are excited to be part of Kopin's Golden-i development team that is comprised of an impressive array of technologies and industry leaders. This collaboration has led to a product that truly pushes the boundaries in portable computing experiences for medical, industrial and commercial users."
Golden-i leverages Nuance's VoCon3200 software, which powers the speech recognition functionality in a variety of automotive, personal navigation and mobile applications, and was chosen by Kopin for its accuracy, speed and multiple language support. Golden-i requires no push-to-talk buttons. Whether in light hibernation waiting for a command or during intermittent use, it is always ready to react to a user's request. Golden-i's speech recognition platform powered by Nuance quickly studies the speaker's unique pronunciation of vowels, consonants and syllables. Easily providing over 90 percent proficiency straight out of the box, the more Golden-i's speech recognition is used, the better its proficiency. "If you're going to use speech recognition, there's no one with more experience and state-of-the-art research than Nuance Communications. Their contributions and guidance have enabled Golden-i to achieve an unparalleled mobile speech recognition performance," said Kopin's Jacobsen.
"Golden-i is a unique application of mobile speech, providing an innovative hands-free experience for the mobile industrial and government workforce. We've seen Golden-i evolve from its first spoken interface to a sophisticated speech platform available in more than 20 languages," commented Michael Thompson, Senior Vice President and General Manager, Nuance Mobile. "We're excited to see where Golden-i is taking mobile speech."
Golden-i also integrates Nuance text-to-speech, enabling Golden-i to read back documents, e-mail messages, webpage content or essentially any text on the display screen in most common languages.
Golden-i integrates a Hillcrest Labs 6-axis, solid state real-time position tracker. The tracker improves user comfort, convenience and safety. Golden-i's integrated solid state tracking technology provides nearly pixel-for-pixel hands-free cursor accuracy across its 15-inch virtual display along with an array of unique features never before available in a commercial display system including ease of use for those wearing corrective eye glasses and infinite zoom-in/zoom-out and seamless pan around capability.
Golden-i can remotely control up to seven other devices or networks at one time, similar to the way users control software applications on a PC desktop. It operates much like a highly mobile server, a hub between various host devices to which it is connected. If a USB interface or removable memory is required, Golden-i provides a mini-USB port and a removable Micro SD card slot capable of supporting up to 32GB on non-volatile solid state RAM.
"Micron Technologies is a strategic supplier of high-performance memories packaged in advanced stackable POP packaging for TI OMAP devices," said Gavin Hagen, Micron Technologies Mobile Memories Manager. "As an active Golden-i development partner, Micron has been providing system integration guidance and advanced memories, sometimes as they come right out of our advanced product development lab. Golden-i represents a brand new category for Super Mobile communication devices. Micron is excited to see the results of its products integrated with so many other cutting-edge technologies. We expect everyone who attends Microsoft's Tech-Ed Conference in Los Angeles this week and test drives Golden-i will be impressed.
Based initially on Kopin's third generation full-color CyberDisplay® SVGA microdisplay, Golden-i's injection-molded optics module takes advantage of nearly 20 years of near-eye systems knowledge, which offers superb user comfort and superior image quality in mobile applications.
Kopin and its business partners are now actively seeking to engage with several industrial organizations for several months of in-depth Golden-i field testing and evaluation. Improvements and refinements uncovered during extensive field testing will be incorporated into production of certified Golden-i products, which are expected in 2010.
"To develop and produce something as advanced as Golden-i requires access to 'Best in Class' technologies from various industry-leading organizations," said Dr. Fan. "When we began developing Golden-i back in 2007, many said our goals were impossible to achieve. We have been benefited by a team of excellent people and organizations who have worked closely for several years. We have now reached an advanced stage that we are ready to share the excitement with the community."
Source: BusinessWire