The 60GB HDD Live pack includes a 60GB hard drive, a 3 month subscription to Xbox Live, a wired headset and ethernet cable all for $99.
Quite the steep price, but it works in terms of the console pricing between an Xbox 360 Arcade and Xbox 360 Pro. But we're not justifying the price and 100% agree that it's still way expensive.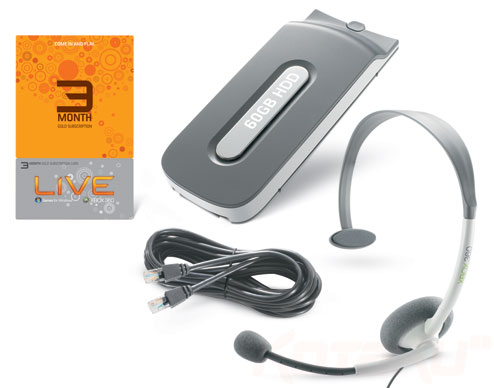 60GB Hard Drive attaches easily to your console and lets you save games, download Marketplace extras, watch movies and TV shows, and more.

Three-month subscription to Xbox LIVE lets you jump into the world of multiplayer gaming.

Ethernet Cable connects to your existing high-speed Internet connection.

Wired Headset lets you chat with friends and trash-talk online opponents.