Blizzard Entertainment announced today that the tickets for the BlizzCon 2010 convention will go on sale on the 2nd of June, and on the 5th of June, in two batches. BlizzCon is a "celebration" of the player communities around the world that surround Blizzard's most beloved universes – StarCraft, Diablo and Warcraft. The event will take place at the Anaheim Convention Center in Anaheim California on the 22nd and 23rd of October, 2010. People who won't be able to go will still be able to watch the LIVE coverage of the event on DirectTV Pay Per View package, and as a multi-channel Internet stream.
CEO and Co-Founder of Blizzard Entertainment, Mike Morhaime, explained that BlizzCon is a unique opportunity for their players to meet one another, strengthen the friendships they have formed online, and have a great time while celebrating a shared passion for gaming together with Blizzard employees. He also said that for those who can't attend, they are pleased to be providing an unprecedented level of access to the activities and attractions that BlizzCon has to offer.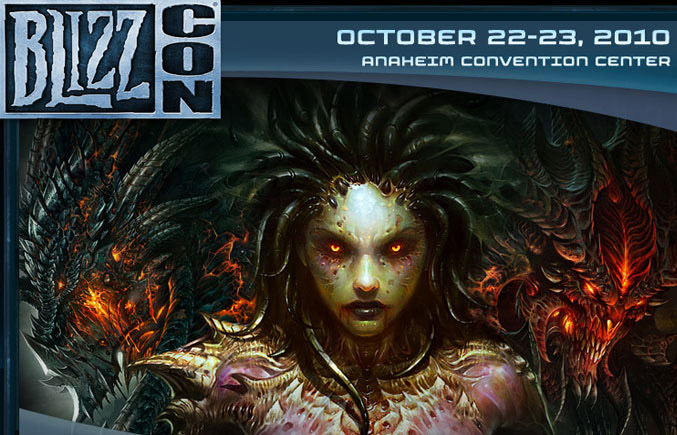 In addition, BlizzCon will serve an array of activities including discussion panels, competitive and casual tournaments, contests, and much more.
The tickets will be available for purchase at the official BlizzCon website, which is blizzcon.com, at the price of $150 USD each. They will be released in two separated batches on the 2nd of June at 7 PM Pacific Time, and on the 5th of June at 10 AM Pacific Time.
The popular DirectTV BlizzCon Pay Per View event will return in this convention at the price of $39.95 for customers in the United States. Other gamers around the world will also have the option to purchase the Pay Per View event as a multi-channel Internet stream at the same price. Those of you who purchase the event will also receive a World of Warcraft BlizzCon Exclusive in-game Item, that will be revealed in the future.
More information at blizzcon.com.