World renowned graphics card and mainboard manufacturer, MSI, today formally releases the world's first graphics card to support over voltage function – the N240GT series. Including the N240GT-MD512-OC/D5 and N240GT-MD1G, this series allows the user to adjust both the voltage and the overclocking configurations via the Afterburner overclocking software to increase GPU clock up to 30%*! Additionally, this series utilizes an advanced 40nm GPU, supports the DirectX 10.1 gaming standard, and offers an native HDMI output for awesome 3D support and high-definition entertainment. The N240GT-MD512-OC/D5 uses extremely fast 512 MB GDDR5 graphic memory, and implements military class components to offer an incredible cost-performance value to customers.
Use Afterburner to adjust voltage and overclock MSI N240GT graphics card
MSI's all new N240GT series of graphics cards supports over voltage function of GPU and overclocking configuration adjusting functionality. Accessible through MSI's Afterburner overclocking software, the user can quickly adjust the GPU's voltage to improve overclocking potential, and the GPU clock can be up to 30%. Without a doubt, this new graphics card series offers users an impressive overclocking experience.
The all-new 40nm GPU
Additionally, MSI's all-new N240GT graphics card series utilizes the advance 40nm NVIDIA GeForce GT240 graphics processing unit (GPU). This GPU not only offers more transistors per unit area, but also provides an outstanding electrical flow control performance. When running heavy-load operations or overclocking, it helps this GPU to maintain a truly cool temperature.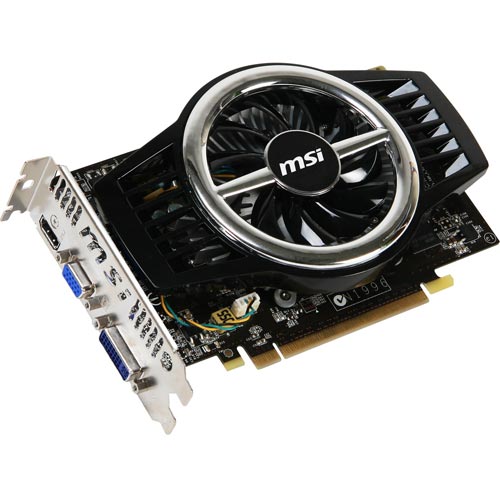 Support for the DirectX 10.1 graphical standard
Aside from the above engineering advancements, MSI's all-new N240GT series of graphics cards supports the DirectX10.1 graphical standard for running the latest games. Just run any DirectX 10.1 game and marvel at the life-like visuals that the N240GT series provides. Gamers will certainly be moved like never before by the realistic graphical experience!
Military class components, stable and quiet
In order to improve system stability, MSI's N240GT series of graphics cards implements the military class components – Hi-C Cap, solid state capacitors and chokes (SSC). When running high-powered applications and games, these components provide exceptionally high levels of stability, and extend the product life-span. Additionally, the solid state chokes eliminate the unwanted noise associated with traditional capacitors running large flows of electricity. The N240GT-MD512-OC/D5 even uses golden SSCs, and can handle higher power flows for even better overclocking capability.
Source: MSI