Gaming peripherals maker SteelSeries reveals its latest product, the new SteelSeries Shift gaming keyboard. The name comes from its ability to alter its appearance and functionality through interchangeable keysets, designed to make you win, whatever you play FPS, RTS, MMO.
The Shift keyboard offers three height levels, extra wide feet and a wrist rest that include rubber inserts to prevent slipping. The base of the keyboard and the new Shift Keysets are all made with premium plastic, it also packs two USB ports,  gold plated audio-out and microphone-in 3.5mm ports and a LED indicators, which shows when profiles and functions are active. Every key on Shift can be customized, not only macros, but you be able to record a sequence of actions with delays and then map that sequence to a single key. You can also record up to 3 layers of on-the-fly macros, on the board memory and then use it at with included buttons on the top of the SteelSeries Shift keyboard. The Bar and Pad Lock keys allow additional layers of mapping on the F and NUM Pad keys that can be utilized in games or in daily applications.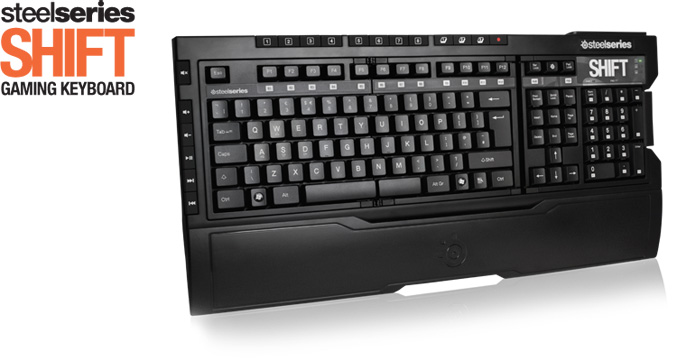 The keyboard is also equipped media keys on the side and  feature anti-ghosting capability,which allows up to simultaneous 7 keystrokes. The Shift keyboard will cost you $89.99/ €89.99 and comes with Standard QWERTY Keyset, additional Keyset will be sold separately for $24.99 USD/ €24.99.