Apparently Sony is launching a wireless keypad attachment that snaps onto the top of a SIXAXIS or DUALSHOCK3 controller into the mini-USB port. The pad features a "touchpad mode" for mouse input, and can be paired with phones and other gadgets via Bluetooth. No word on pricing, but the pad launches in November, and the add-on will come in eight different languages, which should really help us with our multi-lingual training.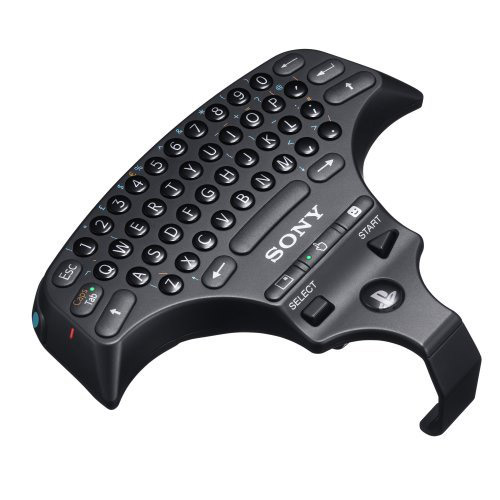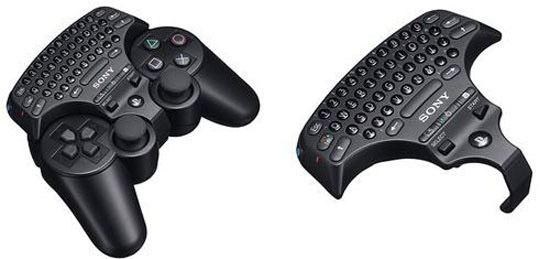 Key Features:
QWERTY keypad designed for fast, thumbs-only typing.

Touch pad mode turns the main key area into a touch pad. When touch pad button is pressed, user can not use the keys for character input but can slide her finger on this area to select something on the screen. On the internet browser, user can see a cursor when this mode is set on.

Dedicated short cut keys provide instant access to text-based communication applications on the PLAYSTATION®Network.

Automatic pairing with the PS3™ system via a USB cable.

Charges by connecting it directly to the PS3™ system using a USB cable.
Technical Specifications
Bluetooth® 2.0

Up to 33 feet (10 meters) operating range

USB 2.0 full speed (for battery charging and Bluetooth® pairing only)

Rechargeable Lithium-ion polymer battery (Capacity – 610mAh)
Here is the link to amazon: http://www.amazon.com/exec/obidos/ASIN/B001ENPDJA/ref=nosim/6553221-rg1864-00-20