If you're from those big fans of the bloody Mortal Kombat fighting game, you may already know that the game will land on April 19 for the Xbox360 and PS3. But do you know that the guys from Performance Designed Products are teamed up with NetherRealm Studios for a special arcade-style Mortal Kombat Fight Stick, which features exclusive custom artwork and also will be used at the MK tournament in Las Vegas on May 14 and 15, where the top contestants will battle for $21,000 in prizes.
According the company, the Fight Stick has been designed to reflect the look and feel of the classic Mortal Kombat arcade cabinet. It has baseball-bat-shaped joystick and concave buttons, and all inner workings are composed of high quality arcade parts from Suzo Happ. The cabinet can be easily opened with a latch and there is room to store cables and a copy of the game. Inside the joystick base, all parts and wires are protected by a unique plastic shield emblazoned with the Mortal Kombat logo, while the underside of the Mortal Kombat Fight Stick is lined with velvet-wrapped memory foam for better comfort when you hold the stick on your lap. It also has rubberized feet at the bottom corners, to prevent sliding when is placed on slippery surface.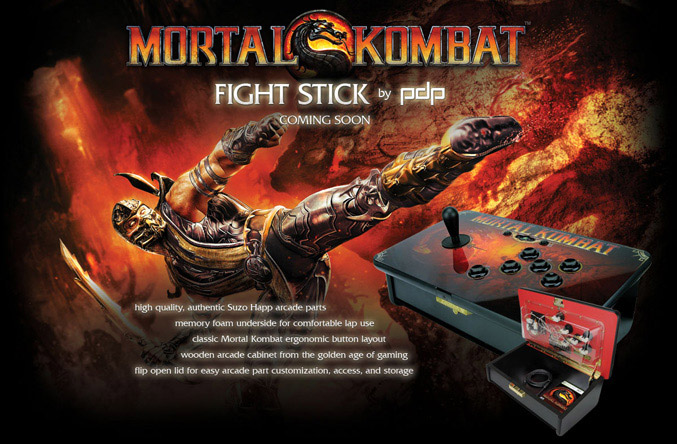 The Mortal Kombat Fight Stick will only be available as part of the Mortal Kombat Tournament Edition or for sale in extremely limited numbers on PDP.com.