Advanced Micro Devices today announced its next generation Accelerated Processing Units (APUs) for desktop and mobile platforms, the AMD A-Series APUs, capable of DirectX 11 HD graphics, "supercomputer-like performance" and over 10.5 hours of battery life.
Codenamed Llano, the AMD A-Series APUs is based on 32nm process technology and combine up to four x86 CPU cores with Direct11-capable discrete-level graphics and up to 400 Radeon cores along with dedicated HD video processing on a single chip and support for advanced capabilities such as gestural interfaces, multi-monitor support, 3D entertainment and real-time image stabilization. The new APUs support switchable graphics, Turbo Core tech and the new Steady Video technology, designed to stabilize videos during playback, plus support for advanced connection standards, including HDMI 1.4a, DisplayPort 1.1, and USB 3.0. According to the AMD, when paired with Radeon discrete graphics card, the new platform offers up to 75 percent boost in graphics performance.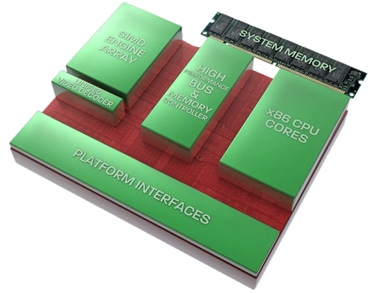 The AMD A-Series APUs are currently shipping and scheduled to appear in more than 150 notebooks and desktops throughout the second quarter of 2011 and beyond.
AMD A-Series Accelerated Processor Model Number and Feature Comparisons

Model

Radeon™ Brand

CPU Clock Speed

CPU
Cores
on Die

TDP

Total L2 Cache

Radeon™ Cores
on Die

GPU Clock Speed

DDR3 Speed

AMD A-Series Accelerated Processors

A8-3530MX

HD 6620G

2.6GHz
/1.9GHz

4 cores

45W

4MB

400

444 MHz

DDR3-1600
/DDR3L-1333

A8-3510MX

HD 6620G

2.5GHz
/1.8GHz

4 cores

45W

4MB

400

444 MHz

DDR3-1600
/DDR3L-1333

A8-3500M

HD 6620G

2.4GHz
/1.5GHz

4 cores

35W

4MB

400

444 MHz

DDR3-1333
/DDR3L-1333

A6-3410MX

HD 6520G

2.3GHz
/1.6GHz

4 cores

45W

4MB

320

400 MHz

DDR3-1600
/DDR3L-1333

A6-3400

HD 6520G

2.3GHz
/1.4GHz

4 cores

35W

4MB

320

400 MHz

DDR3-1333
/DDR3L-1333

A4-3310MX

HD 6480G

2.5GHz
/2.1GHz

2 cores

45W

2MB

240

444 MHz

DDR3-1333
/DDR3L-1333

A4-3300M

HD 6480G

2.5GHz
/1.9GHz

2 cores

35W

2MB

240

444 MHz

DDR3-1333
/DDR3L-1333