ASUS, the world's leading producer of top quality, cutting edge graphics solutions, today launched the new ASUS EAH5870/2DIS/1GD5 and EAH5850/2DIS/1GD5. The first in the world to utilize Voltage Tweak technology, these graphics cards enable users to boost GPU voltages via the SmartDoctor application to enjoy up to a 38% improvement in performance.
Both graphics cards support Microsoft DirectX 11® and Windows® 7 to provide users with the most intense gaming experience. The latest 40nm process and GDDR5 memory technologies are also utilized to deliver faster processing times and general system performance. Users can even run up to three displays from a single graphics card, thanks to the native DisplayPort and Eyefinity technology. The ASUS EAH5800 Series comes specially bundled with DiRT 2™—by far the most anticipated DirectX 11® game—pushing the boundaries of immersive gaming with true-to-life visual realism and effects.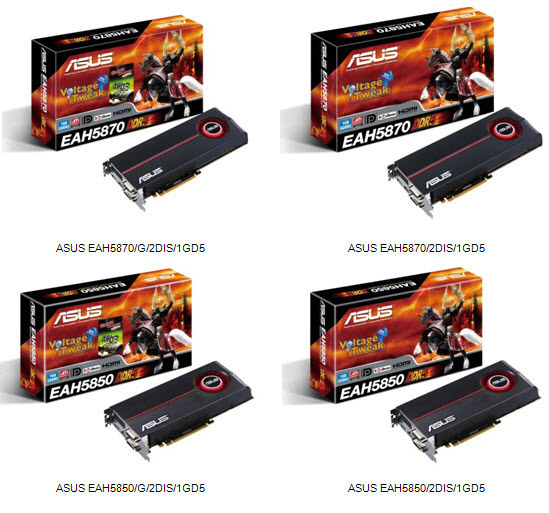 Performance Boosts with Voltage Tweak and Extreme Overclocking with SmartDoctor
The ASUS EAH5870/2DIS/1GD5 and EAH5850/2DIS/1GD5 are equipped with Voltage Tweak technology, as part of the SmartDoctor application. It enables users to raise GPU voltages from 1.15V to 1.35V and from 1.088V to 1.4V respectively, boosting GPU and memory clock performance from 850 / 725 MHz to 1035 / 1050 MHz and from 4800 / 4000 MHz to 5200 / 5200 MHz respectively. Such extreme performance upgrades raise the EAH5870 and EAH5850's 3DMark Vantage Extreme Preset score from 8,087 to 9,252 and from 6501 to 8987—an unbelievable 17% and 38% improvement compared to other reference designed boards*. Gamers and overclockers can also benefit from ASUS SmartDoctor, the world's first overclocking utility that allows the tweaking of GPU voltages on the EAH5800 Series graphics cards. ASUS SmartDoctor enables users to boost both voltages and overall performance with just a few clicks—without the hassle of flashing the BIOS or running the risk of damaging the graphics card.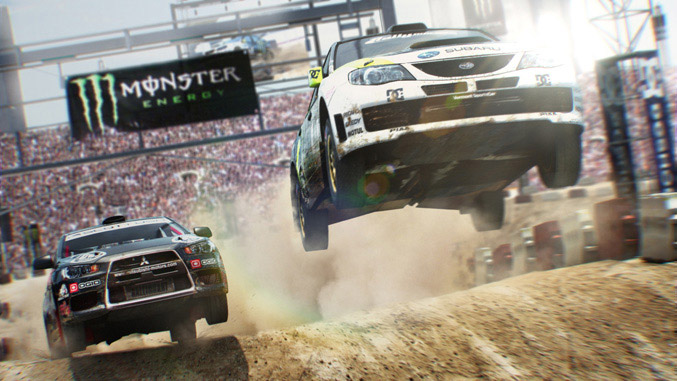 Taking Graphics Further with Windows® 7, DirectX 11® and DiRT™ 2
With the ASUS EAH5800 Series graphics cards' support for DirectX 11®, it is now possible for users to enjoy new levels of visual realism while playing games and watching videos on the PC. Innovations such as HDR Texture Compression, DirectCompute and Tessellation are engineered to take advantage of all the graphical features within the new Windows® 7 operating system. What's more, the ASUS EAH5800 Series is available in a special bundle, featuring the best in off-road racing—Colin McRae: DiRT™ 2. Colin McRae: DiRT™ 2 is one of the most anticipated racing games of the year. It takes full advantage of DirectX 11®, adding realism to the racing environment. Hardware tessellation improves the appearance of water and other surfaces, as well as crowd animations. Utilizing the EGO Engine, DiRT™ 2 sets the world of virtual rallying alight, a definite must-have for high adrenaline off-road racing on the PC.
Enhanced Processor and Memory Performance via 40nm Process and GDDR5 Memory Technologies
The ASUS EAH5800 Series graphics cards boast 40nm process technology to provide better system performance while using less power, thanks to highly efficient transistors. With advanced GDDR5 memory technology—enabling up to twice the bandwidth per pin as compared to GDDR3 memory—users can now experience the speed, responsiveness and performance of ultra-high bandwidth for processor-intensive multitasking and gaming.
Extend the View across Three Displays with Eyefinity Technology and Native DisplayPort
The ASUS EAH5800 Series graphics cards feature Eyefinity technology and native DisplayPort, allowing users to expand the field of view across up to three displays**. This allows for more detail than ever before with innovative "wrap around" capabilities that deliver an incredibly intense gaming experience, enhancing the feeling of being in the game.
Specifications
Model
EAH5870/G/2DIS/1GD5
EAH5870/2DIS/1GD5
Graphics Engine
ATI Radeon™ HD 5870 graphics
ATI Radeon™ HD 5870 graphics
Video Memory
1GB GDDR5
1GB GDDR5
Engine Clock
850MHz
850MHz
Memory Clock
4800MHz (1200MHz GDDR5)
4800MHz (1200MHz GDDR5)
Memory Interface
256 bit
256 bit
DVI Max. Resolution
2560 x 1600
2560 x 1600
Bus Standard
PCI Express® 2.0
PCI Express® 2.0
DVI Output
DVI-I (Dual Link) X2
DVI-I (Dual Link) X2
HDCP compliant
Yes
Yes
HDMI Output
Yes
Yes
DisplayPort
Yes
Yes
D-Sub Output
Yes (Via Adapter)
Yes (Via Adapter)
Software Bundled
ASUS Utilities and Driver
The hottest DirectX11® game: DiRT 2™
ASUS Utilities and Driver
Dimensions
11 inches x 5 inches
11 inches x 5 inches
Model
EAH5850/G/2DIS/1GD5
EAH5850/2DIS/1GD5
Graphics Engine
ATI Radeon™ HD 5850 graphics
ATI Radeon™ HD 5850 graphics
Video Memory
1GB GDDR5
1GB GDDR5
Engine Clock
725MHz
725MHz
Memory Clock
4000MHz (1000MHz GDDR5)
4000MHz (1000MHz GDDR5)
Memory Interface
256 bit
256 bit
DVI Max. Resolution
2560 x 1600
2560 x 1600
Bus Standard
PCI Express® 2.0
PCI Express® 2.0
DVI Output
DVI-I (Dual Link) X2
DVI-I (Dual Link) X2
HDCP compliant
Yes
Yes
HDMI Output
Yes
Yes
DisplayPort
Yes
Yes
D-Sub Output
Yes (Via Adapter)
Yes (Via Adapter)
Software Bundled
ASUS Utilities and Driver
The hottest DirectX11® game: DiRT 2™
ASUS Utilities and Driver
Dimensions
9.5 inches x 5 inches
9.5 inches x 5 inches
Source: Asus