While many portable electronic devices now incorporate Wi-Fi, consumers typically have been unable to connect to a true broadband network without first finding a Wi-Fi hotspot.  Clearwire Communications LLC, an operating subsidiary of Clearwire Corporation  announced the CLEAR™ Spot Personal Hotspot, an accessory which enables standard Wi-Fi products to connect to the Internet, at true broadband speeds, via the company's CLEAR™ mobile WiMAX service.
The CLEAR Spot creates a personal Wi-Fi hotspot that travels with consumers anywhere they happen to be within the CLEAR service area. Manufactured by CradlePoint, this first CLEAR Spot device is a portable, battery-powered router that seamlessly connects up to eight Wi-Fi devices to the Internet via CLEAR's mobile WiMAX network. Customers simply insert their CLEAR USB Modem (available for $49) into the router and an instant Wi-Fi hotspot is created allowing any Wi-Fi-enabled consumer electronic or PC device to utilize the power of CLEAR's mobile WiMAX network. With CLEAR Spot, any existing, off-the-shelf Wi-Fi device (compatible with 802.11b/g) can connect to CLEAR's mobile WiMAX network.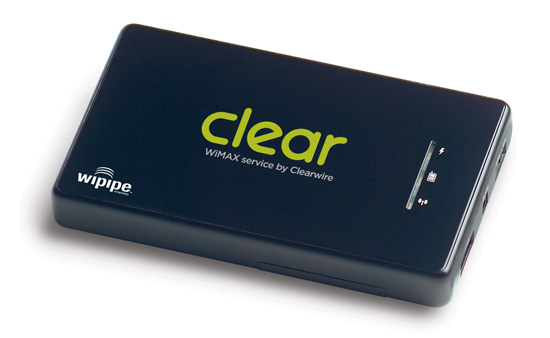 "With CLEAR Spot, we've combined the speed and mobility of our 4G service with the ubiquity of Wi-Fi to create the best possible broadband experience for our customers," said Scott Richardson, chief strategy officer for Clearwire. "While many CE devices will eventually include embedded WiMAX technology, our customers can now easily use their existing Wi-Fi-enabled phones, cameras, game systems, or laptops in compelling new ways. Since CLEAR is a true broadband Internet service, which just happens to be delivered wirelessly, we actually welcome the use of heavy bandwidth data applications that conventional 3G network operators may discourage or simply can't support. In fact, we encourage our customers to use their Wi-Fi-enabled smart phones, or other CE devices, on our open network to receive better Internet connections." "CradlePoint technology is at the forefront of device interoperability and we are excited to enter the WiMAX ecosystem through our relationship with Clearwire in developing the CLEAR Spot device," said Jack Alton, CradlePoint vice president of sales. "Clearwire's mobile WiMAX network offers an attractive opportunity to expand the reach of our products into a new and growing mobile networking standard while helping the company to expand the value of WiMAX to the wide array of Wi-Fi-enabled devices already in the marketplace." Wide Range of Devices & Applications With an all-IP network designed specifically for data, CLEAR's mobile WiMAX service delivers mobile download speeds up to 4Mb per second to any Wi-Fi devices used in conjunction with CLEAR Spot. CLEAR's mobile Internet plans do not require long term service contracts and can be purchased by the day for just $10, or by the month, starting at $30 per month. CLEAR's flexibility and capability enables consumers, businesses, and government agencies to receive greater value from the devices they already own. Possible examples include:
3G Smartphone Owners

: Owners of an Apple® iPhone™ 3G and iPod® Touch, select Blackberry® smartphones or Windows Mobile phones, a G1 (Google's™ first Android™ phone), as well as the upcoming Palm® Pre™, could connect to the Internet at speeds several times faster than their phones' embedded 3G technology – without having to find a Wi-Fi hotspot.

Music Lovers

: CLEAR customers with an Apple iPod Touch, Microsoft Zune®, or other Wi-Fi-enabled MP3 player can wirelessly download new songs while sitting outside with friends, commuting to work, or at the gym.

Photos and Videos

: Owners of Wi-Fi-enabled digital cameras or video cameras, like the Sony Cybershot™ DSC G3, Panasonic® LUMIX® DMC-TZ50, or Nikon® Coolpix® S610c, can now use CLEAR Spot to upload photos or videos right from the ball game, company picnic, or while walking around town.

Gamers:

Fans of the Sony PSP® or Nintendo DS™ can take portable gaming to the next level by connecting over CLEAR's 4G network to enjoy high-speed multiplayer action on the go.

Families:

One CLEAR Spot device plugged into the family Minivan's power adapter can bring a world of information and entertainment to the backseat. Since CLEAR Spot supports multiple users, one child could use Google to research a homework assignment on a netbook, while another plays video games, and a third watches Hulu while checking on friends through Google Latitude on a laptop.

Emergency Responders:

At the scene of an incident, public safety personnel can use one CLEAR Spot device to set up a mobile command center for up to eight of their existing laptops. This means they no longer need to rely on relatively slow cellular modem cards in order to receive or transmit critical, time sensitive information.

Business Professionals:

The pervasiveness of embedded Wi-Fi in laptops, netbooks, and Macbooks enables business professionals to receive true broadband Internet service around the city, while mobile, or at the office.
Pricing and Availability
As part of a multi-year network build-out plan, CLEAR's mobile WiMAX service is expected to become available in major metropolitan areas across the U.S., and is currently available in Portland, Oregon. The CLEAR Spot router, manufactured by CradlePoint, will be available for $139 at CLEAR stores and authorized dealers or online at www.clear.com in early-April. The new router is just the first CLEAR Spot Wi-Fi-enabled device from Clearwire. The company expects to introduce other CLEAR Spot enabled products in the coming months.
About Clearwire
Clearwire Communications, LLC, an operating subsidiary of Clearwire Corporation, (NASDAQ: CLWR), offers a robust suite of advanced high-speed Internet services to consumers and businesses. As part of a multi-year network build-out plan, Clearwire's 4G service, called CLEAR™, will be available in major metropolitan areas across the U.S, and bring together an unprecedented combination of speed and mobility. Clearwire's open all-IP network, combined with significant spectrum holdings, provides unmatched network capacity to deliver next generation broadband access. Strategic investors include Intel Capital, Comcast, Sprint, Google, Time Warner Cable, and Bright House Networks. Clearwire currently provides 4G service, utilizing WiMAX technology in two markets and provides pre-WiMAX communications services in 50 markets across the U.S. and Europe. Headquartered in Kirkland, Wash., additional information about Clearwire is available at www.clearwire.com.
Source: Press Release