The world leading graphics card and mainboard brand-manufacturer, MSI, today proudly releases N260GTX-T2D896 Batman: Arkham Asylum Edition Harley Quinn graphics card (hereinafter referred to as N260GTX-T2D896 Batman) which adopts the high-end NVIDIA GeForce GTX260 GPU and 896MB 448bit GDDR3 high-performance memory. With Military Class Concept Components such as SSC (Solid State Chokes) and all solid CAPs, MSI N260GTX-T2D896 Batman ensures extreme stability and outstanding performance.
N260GTX-T2D896 Batman will be limited to 1600pcs and only be available in Europe, Japan, Taiwan, Australia and some of the SEA countries. MSI is exclusive-licensed on selling each graphics card with a Harley Quinn image on the card and a full-version game bundle "Batman: Arkham Asylum." Any customer who purchases it can download the game from nZone for free, and enjoy the brand new experience brought by NVIDIA PhysX technology.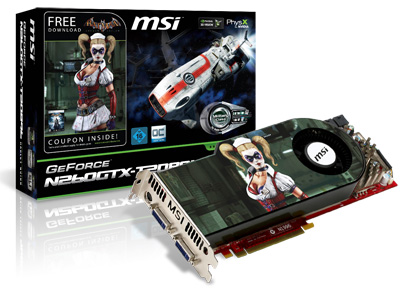 With a full-version game bundle to experience the amazing NVIDIA PhysX technology
MSI N260GTX-T2D896 Batman's exclusive Game bundle "Batman: Arkham Asylum" is developed by well-known Rocksteady Studios. Its story continues from the movie "Batman: The Dark Knight." After the Joker is defeated by Batman, he has been sent to the Arkham Asylum. Therefore, with Harley Quinn's help, the Joker controls the asylum and releases those caged prisons. Batman must find the way to beat all evil challengers.
It is worth mentioning that the game supports NVIDIA PhysX technology. Through the physical effects processed by GPU, users can experience the swinging clothes, flying flags, breaking-down and crazing things in a much more realistic way. So gamers can enjoy a brand new gaming experience.
Military Class Concept Components – SSC (Solid State Choke) and All Solid CAPs
MSI N260GTX-T2D896 Batman adopts form-in-one SSC (solid state choke) and All Solid CAPs (solid capacitors). The former effectively reduces buzz noise under heavy loading and can increase the maximum current value up to 30% compared to traditional chock. Therefore, SSC can provide more stable current when under extreme overclocking operation. The Solid CAP has a longer lifespan than a liquid one. Under the high frequency and high temperature operating environment, Solid CAP provides even more stable power supply. To ensure the best quality, MSI N260GTX-T2D896 Batman adopts SSC and all Solid CAPs.
Source: MSI