Global graphics and mainboard manufacture, MSI, today unveils two new energy saving graphics cards – N9800GT-MD1G and N9800GT-MD512 – that meet customers demands for energy-saving and performance.
Both cards use NVIDIA's all new, advanced GeForce 9800GT GPU, which not only delivers all the performance of its predecessors, but uses a more advanced power control technology to decrease power consumption by up to 25%. Additionally, this card equips MSI's latest generation of capacitors, Hi-c CAP, and solid state chokes (SSC) for better, more stable overclocking and the most fulfilling performance/energy-saving graphical experience.
Hi-c CAP – Tantalum Solid Capacitor
In order to provide a product with longer-life and better quality, MSI has equipped this N9800GT series with special high-quality Hi-c CAP for the GPU's power supply. Hi-c CAP uses the extremely rare Tantalum material in its core; tantalum is the extremely expensive and stable metal, and gives Hi-c CAP a 200 year lifespan at a constant operation temperature of 65C. This product life beats all other solid state capacitors' standards, and is currently among the highest level of all capacitors. Tantalum's stability also decreases the chance for power leakage to provide a higher level of power supply, and keeps the GPU stable even when running hot or overclocked.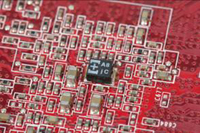 Solid State Choke (SSC)
MSI's all new N9800GT series also equips the latest SSC(Solid State Choke). This form-in-one design decreases the high-frequency buzz noise often caused by traditional choke when running under high electrical currents. SSC also helps the electrical current, and are capable of managing 30% higher currents than traditional choke. This capability is crucial for maintaining stability when overclocking.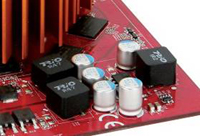 Eliminate the need for additional power supply, save resources and money
The all new N9800GT-MD1G and N9800GT-MD512 have more accurate control over their power supply, cutting power consumption by up to 25%. Customers will also enjoy that these cards do not require an extra 6-pin power cord, thereby increasing convenience, helping the environment, and saving on the electricity bill.
Integrated HDMI port to easily setup an HTPC
Going with the trend of PCs being used as a total home entertainment system (Home Theater PC/HTPC), MSI's N9800GT packages an HDMI port in addition to DVI and D-Sub ports for direct connection with an LCD TV. This advantage allows for hi-def audio and visual content to be directly broadcasted on the TV for crisp images and pounding sound effects.
Source: MSI