Maingear has introduced powerful eX-L 15 gaming laptop. The new 15,4 inch notebook with 1920×1200 resolution features Core 2 Duo/Quad processor, Intel PM45 Chipset + ICH9M, Up to 8GB Dual Channel DDR3 Memory, nVIDIA GeForce GTX 260M with 1GB DDR3 Video Memory and  up to 1.5TB SATA 3 HDD.
"Our new 15.4 inch notebook packs portable gaming power at a sensible size. This beautiful new system is wrapped in brushed aluminum keeping it light but sturdy at just over 7lbs. Powerful graphics processing with the new NVIDIA GeForce GTX 260m will allow for smooth gameplay on the move."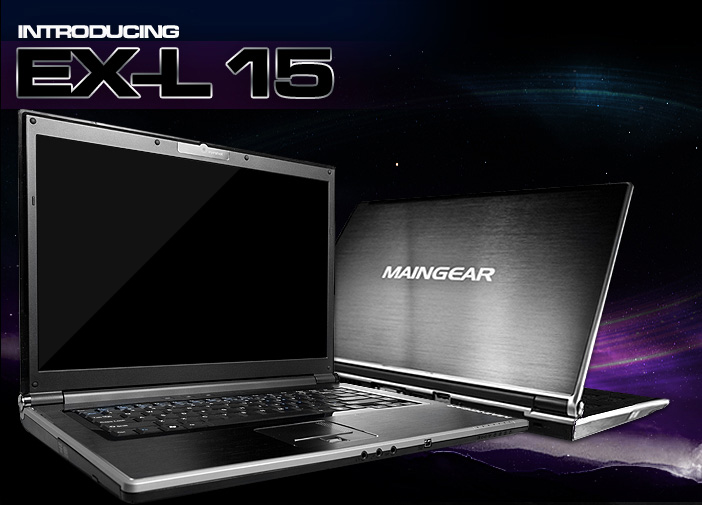 It also comes with Full Sized Keyboard, 802.11n wireless, Biometric Fingerprint Security, 7-in-1 Card Reader and 8 cells smart Lithium-Ion battery pack, 4.4Ah for the price starting from $1,899.
OPERATING SYSTEM
-Windows Vista Home Premium (32-Bit, 64-Bit)
-Windows Vista Ultimate (32-Bit, 64-Bit)
CPU, CHIPSET, MEMORY
CPU
-Intel Core 2 Duo Processor P8400 (2.26GHz)
-Intel Core 2 Duo Processor P9500 (2.53GHz)
-Intel Core 2 Quad Processor Q9000 (2.0GHz)
CHIPSET
-Intel PM45 Chipset + ICH9M
MEMORY
-Up to 8GB Dual Channel DDR3 Memory
GRAPHIC&VIDEO
Standard
-nVIDIA GeForce GTX 260M with 1GB DDR3 Video Memory
Connectivity
-Video in: Integrated HD TV (ATSC) Tuner (Coaxial) – Optional
-Video/TV out: One HDMI 1.3b Connector
-Video/TV out: One VGA Connector
STORAGE
Single Hard Drive
-7200 RPM – up to 500gbGB SATA
– Solid State Drive – 80GB SATA
Dual Raid 0 Hard Drives
-7,200 RPM – up to 1.5TB SATA (3 x 500GB)
NETWORKING
Wireless Connectivity
-Internal Intel WiFi Link 5300 a/b/g/Draft-N
-Integrated Bluetooth 2.1
AUDIO
-Built-in High Definition Sound System
-SRS WOW Surround Sound Technology inside
-3D stereo enhanced Sound system
-Compatible Sound-Blaster PRO™
-S/PDIF Digital output 7.1CH
-1 Built-in Microphone
-2 Built-in Speakers
PHEROPHERAL CONNECTIONS
– 3 Hi-Speed USB 2.0 Ports
– 1 Express Card 34 / 54 Slot
– 7-in-1 Card Reader (MMC/RSMMC/MS/MS Pro/MS Duo/SD/Mini-SD)
– 2 MiniCard Slots (1st for Turbo Memory Module, 2nd for WLAN)
– 1 DVI output port
– 1 HDMI output Port
– 1 eSATA Port
– 1 S/PDIF output Jack
– 1 RJ-45 LAN (10/100/1000Mbps)
– 1 RJ-11 Modem
– 1 IEEE-1394a Fire Wire
CASE & CHASIS
Chassis
– Height: 1.45 inches
– Width: 14.3 inches
– Depth: 10.6″ inches
– Weight: 7.1lbs
Battery
– 1 Removable 8 cells smart Lithium-Ion battery pack, 4.4Ah
Full Range AC-in 100~240V, 50~60Hz, DC output: 20V, 6.0A AC Adapter
LCD Panel
– 15.4″ (16:10) WUXGA (1920×1200) with Matt Finished Type Screen
Keyboard and Touchpad
– Full Sized Keyboard
– Windows Hot keys
– Integrated with Hot Keys for LCD Brightness, Suspend, Panel/CRT Display
– Hot Keys for E-Mail and Web Browser
– Integrated Touchpad with Scrolling function
Source: Maingear