Motorola  announced a new docking station for its WiMAX USBw 200 dongle. The docking station is create to significantly improves the indoor performance of the USBw 200 and is  convenient way for users to gain access to WiMAX networks from their laptops while on the go.
"Motorola has a broad portfolio of high-performance, high-quality WiMAX devices that meet customers' diverse needs for connectivity. The docking station for the USBw 200 is our latest innovation to improve indoor coverage so people have greater flexibility on where they can enjoy personal media experiences," said Bruce Brda, senior vice president, Motorola's Home & Networks Mobility.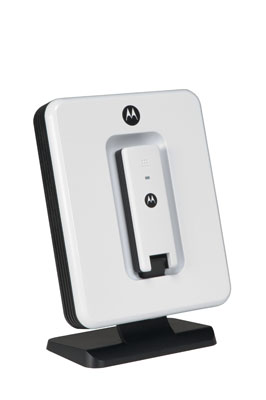 When you connect the docking station to a laptop using a USB cable and placing the USBw200 into the docking station, Motrola claims that users gain significant improvement in their connection. "When in the docking station the USBw 200 commands up to 3dB improvement in signal level vs. a standalone USBw200 device, offering greater coverage and delivering a user experience that is on par with a desktop CPE. "
The USBw 200 docking station, available for 2.5GHz and 3.5GHz bands, is scheduled for availability in Q2 2010.
Source: Motorola