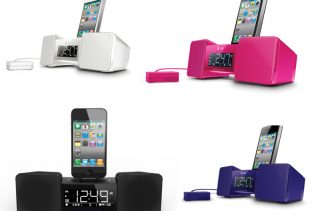 The iPhone and iPod are two of the most widely spread devices on the market, so the companies are trying...
Gigabyte today announced the successor of its Booktop M1405 notebook, the 14-inch Huron River based Booktop M2432 model which comes...
Bang & Olufsen has unveiled a luxury docking station for the iPhone, iPod, and iPad, that has an elegant design...
Thermaltake comes up with new series of USB 3.0 SuperSpeed docking stations for all 2.5" and 3.5" HDDs. The Thermaltake...
Motorola  announced a new docking station for its WiMAX USBw 200 dongle. The docking station is create to significantly improves...
Zemno LLC, a developer and manufacturer of advanced Apple and PC peripherals, today unveiled the DeskBook Pro Docking Station which...
Toshiba's Digital Products Division (DPD), a division of Toshiba America Information Systems, Inc., announced the availability of its universal dynadock™...