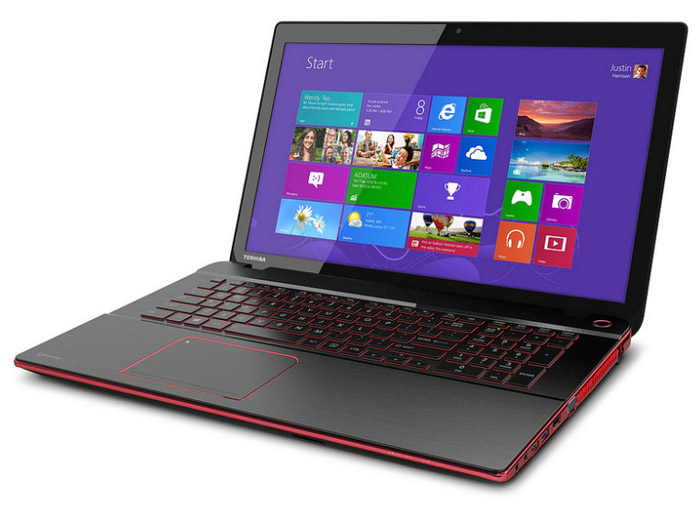 Toshiba has launched a massive refresh of its laptop lines with most models getting major upgrades. All new models will be available starting on September 29, 2013.
"We really have created something for everyone here," said Carl Pinto, vice president of marketing, Toshiba America Information Systems, Inc., Digital Products Division. "From the budget conscious consumer to the content creating guru to the gaming god, Toshiba's new Satellite and Qosmio laptops can handle virtually any consumer need, and thanks to their innovative and sleek designs, they'll look great doing it."
The high-end Qosmio X series designed for professionals, enthusiasts and gamers now has Intel Core i7 Haswell processors, support for up to 32 GB of RAM, GeForce GTX 770M graphics with 3 GB of GDDR5 memory, a choice between 1 TB hard drive and SSD storage or a 1.5 TB hard drive, Blu-Ray optical drives, Harman Kardon speakers and more. The Satellite P series now offers new very thin chassis, 15.6-inch displays, new NVIDIA graphics, Harman Cardon speakers and improved USB Sleep & Charge technology for charging devices such as tablets and others and UltraHD output via HDMI.
The Satellite S series delivers LED backlit keyboards, premium Harman Kardon speakers, powerful Core i5 or Core i7 Haswell chips, NVIDIA or AMD graphics, up to 16 GB of DDR3 SDRAM, 15.6- or 17.3-inch displays and up to 1 TB of internal storage.
The everyday Satellite L series also offers Haswell processors but users can also get AMD APUs if they wish so. Again this line comes with a choice between 15.6-inch and 17.3-inch displays, DTS Studio Sound, improved USB 3.0 with Sleep & Charge technology and up to 1 TB of hard drive storage and up to 8 GB of RAM.
The basic Satellite C line offers up to 8 GB of RAM, up to 750 GB of storage, 15.6-inch or 17.3-inch displays, Fusion Finish technology, full-sized keyboards, Intel Haswell processors as well as cheaper Pentium chips and AMD APUs as an option.
As to pricing the Qosmio X series starts at USD 1399.99 while the Satellite P starts at USD 799.99. The Satellite S, L and C series start at USD 599.99, USD 529.99 and USD 359.99 respectively.

Source: Toshiba