The new AMD memory has finally reached markets in Europe and AMD fans and clients can now purchase memory that is guaranteed to work with their AMD based computers.
This brand of memory was first launched in the US but up until now it was not available in Europe. AMD memory is the result of collaboration between AMD and Patriot Memory LLC.
In Europe the AMD branded memory will be supplied by Alternate (Germany), Asbis (Eastern Europe), Avnet Technology Solutions Ltd (Europe, Middle East, Africa), Pixmania (Europe, Middle East, Africa) and VIP Computers (Great Britain and Benelux).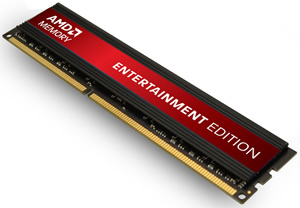 AMD offers DDR3 memory modules with capacities of 2 GB, 4 GB and 8 GB which run at different speeds and are grouped in different series. The Entertainment series comes with 1333 MHz and 1600 MHz speed and is designed for HTPC systems while the Performance series runs at up to 1600 MHz and comes in kits.
The fastest Radeon Edition AMD memory offers speeds of up to 1866 MHz and is specifically certified to work with maximum performance courtesy of the AMD OverDrive tuning program.
AMD claims that AMD memory guarantees customers speed, reliability and compatibility with all AMD CPUs and chipsets.
Source: Technews.bg