AMD had its so called Investor Day earlier this week and as expected the company brought tons of news to the public some of them dealing with the upcoming x86 Zen architecture that should turn the fortunes of AMD on the CPU market. This is the reason why we will start covering the AMD Investor Day exactly with Zen as the architecture seems to be really promising.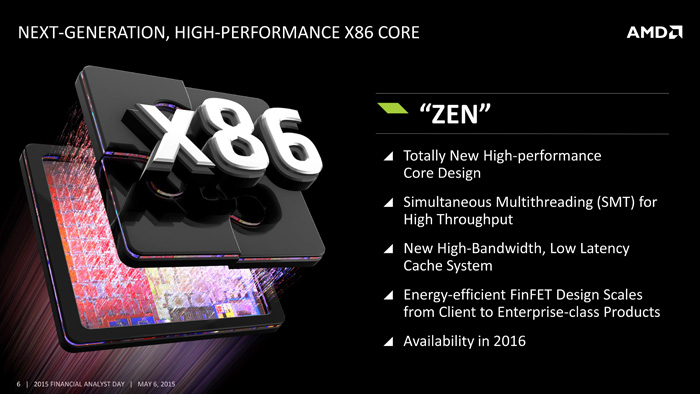 According to AMD Zen will bring massive performance improvements to the table. Zen will offer a massive 40 per cent increase in IPC (instructions per clock) compared to the current most advanced AMD module-based Excavator architecture. Zen will also offer a very advanced 14 nm FinFET production process, simultaneous multithreading, an all-new low-latency cache subsystem and a new generation of integrated GPUs. All this hardware will sit in a new socket called AM4 (and not FM3 as previously reported). The new socket will support Zen CPUs with more cores but no integrated graphics or Zen-based APUs with fewer cores but with integrated graphics so users will have a flexible choice. After Zen AMD plans to release Zen+ processors with architecture improvements but currently there's no information whatsoever on these chips.
The first Zen-based processors will be released next year.
Source: AMD