ASUS has made it to another first in the computer hardware industry this time by offering the first Intel Thunderbolt-certified motherboard – the P8Z77-V Premium.
In case you don't know what Thunderbolt technology is, here's a tip – Thunderbolt is a new, high-speed I/O technology designed for performance, simplicity and flexibility, with lightning fast transfer speeds that are twice that of USB 3.0 and up to 20 times faster than USB 2.0. It offers simultaneous bi-directional, 10 Gbps transfer speeds over a single cable, with the flexibility to daisy chain up to six Thunderbolt devices with a single connection for a clutter-free computing experience. Users can connect multiple Thunderbolt-enabled external storage drives to a Thunderbolt-enabled display and transfer files while watching HD movies, all without experiencing any lag.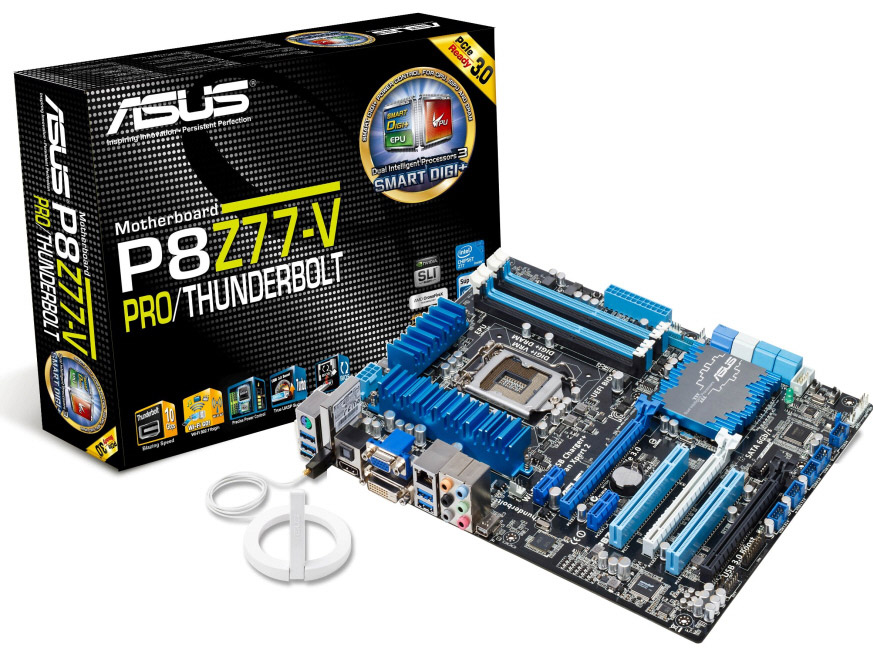 Enough with the hardware lessons so let's go back to the ASUS motherboard. More experienced hardware enthusiasts will immediately notice that the new motherboard is based on the Intel Z77 chipset and targets the LGA 1155 socket infrastructure with support for Intel's 2nd and 3rd generation Core processors. The novelty also supports up to 32 GB of DDR3 memory at 2800 MHz (in overclocking mode) and has 4 PCI-E 3.0 x16 slots for 4-way SLI and CrossFire modes giving gamers unprecedented speed in 3D games. Storage is provided by 2 SATA 3.0 ports and 3 SATA 2.0 ports as well as one mini-SATA 2.0 port with a 32 GB on-board SSD for enabling Intel Smart Response and Rapid Start Technology. There's also an on-board Realtek ALC 898 sound chip, Bluetooth 4.0, Wi-Fi 802.11a/b/g/n and a ton of special features and accessories. Last but not least the ASUS P8Z77-V Premium comes with advanced SSD caching, allowing users to cache additional frequently used programs and files using multiple SSDs to instantly upgrade system performance.
Pricing is unknown but taking all the features into account the ASUS P8Z77-V Premium is very likely to be an expensive socket LGA 1155 motherboard.
Source: Techpowerup.com