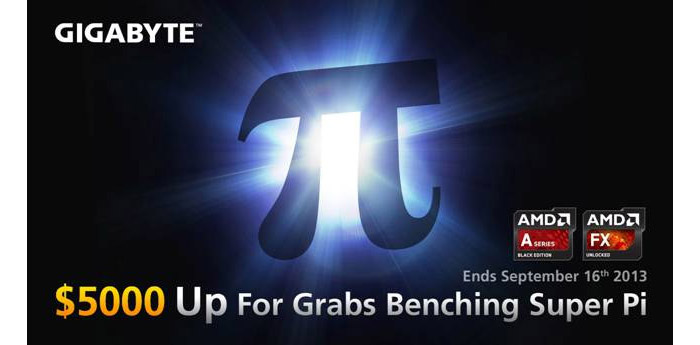 The Taiwanese hardware maker Gigabyte has challenged owners of AMD processors to set new records in the popular SuperPi benchmark.
SuperPi has been around for decades and while years ago AMD was the undisputed leader in this application, currently Intel holds the performance crown thanks to its Core processors. Now Gigabyte wants to show that AMD CPUs can be real competition to Intel chips in this benchmark.
The competition is known as "Pi is returned" and the goal is to be as fast as you can in SuperPi 1M and 32M. In order to take part you must own an AMD FM2 (A group) or an AMD AM3+ (B group) processor; the A group allows usage of Llano, Trinity and Richland APUs.
Given that there are four different types of chips the contest provides for four first places. First place will give you USD 500, second place is valued at USD 250, while third place will give you a Gigabyte FM2A85XN-WIFI motherboard coupled with an A10-6800K APU (for A group) or a Gigabyte 990FXA-UD3 motherboard with an AMD FX-8350 processor (for B group). If you set a world record the first prize gets doubled.
Results will be taken until September 16. You can find more information on the HWBot web site and on the Gigabyte official web page.

Source: Gigabyte