Gigabyte jumps on the GeForce GTX 560 Ti with its own overclocked version which GPU is overclocked to 1 GHz – the GV-N560SO-1GI model that of course comes  with a custom cooling solution.
Designed as manufacturer said specifically for overclocking competition and gaming battle, Gigabyte's GTX 560 Ti Super Overclock Edition feature GPU/shader and memory clocks of 1000/2000/ and 4580 MHz (4000 MHz stock)MHz for its 1GB of GDDR5 memory. The card is equipped with company's WindForce 2X Anti-turbulence Cooling solution which packs four copper heatpipes and two "ultra quiet"  PWM fans which are designed to minimizes the flow of turbulence between two fans and enhances heat dissipation.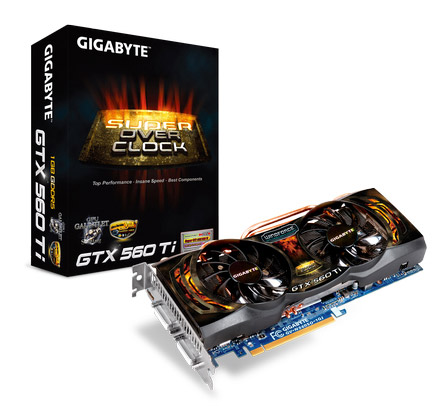 The graphics card features 7 phase PWM design- 6 for GPU and 1 for memory to ensure a more stable system and better overclocking capability, voltage read point and OC Guru Smart Tuner. GV-N560SO-1GI offers a mini HDMI and two DVI outputs priced at €257.