The world well-known graphics card and mainboard manufacturer, MSI, officially announced new product of top-of-the-range Lightning series graphics card, N275GTX Lightning.
The MSI N260GTX Lightning that is released in April has broken the world record by reaching incredible 1.1GHz GPU clock that no other GTX 260 cards can exceed. After N260GTX Lightning, MSI introduced the new N275GTX Lightning with Military Class components, 10 phase PWM, 1792MB GDDR3 memory, Twin Frozr II thermal design with SuperPipe technology, and several overclocking functions. The performance of MSI N275GTX Lightning is even faster than reference GeForce GTX 285 graphics cards, which prove its perfect design and best quality.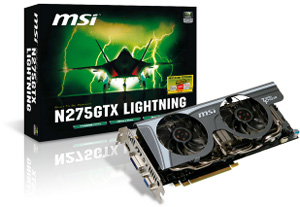 Military Class Components
MSI N275GTX Lightning adopts Military Class components, including Hi-c CAP, SSC (Solid State Choke), and All Solid CAP. These components are all made of top quality materials and meet the temperature requirement of US Department of Defense. The core of the Hi-c CAP is made from a rare metal, Tantalum, which has extremely high stability like platinum ,and Hi-c CAP is widely used on NASA satellites and space shuttles in extremely bad environment. MSI N275GTX Lightning uses a lot of Hi-c CAP to provide the most stable GPU power supply and extend the lifespan of the components.

SSC (Solid State Choke) adopts brand new form-in-one chokes and uses no separated parts inside the chokes. Under heavy loading condition, SSC will not produce any high-frequency vibration buzz noise like traditional chokes. MSI N275GTX Lightning applies complete SSC design and guarantees no buzz noise under 100% full load.
Military Class solid capacitors are also used on MSI N275GTX Lightning. Under full load operation and high temperature condition, the lifespan of the solid capacitors can still easily last for10 years. In the meantime, the ESR (Equivalent series resistance) value is two times lower than traditional capacitors and allows Military Class solid capacitors achieving lower operating temperature and higher power efficiency.
Twin Frozr II thermal design
Twin Frozr thermal design is a dual fan cooling system designed by MSI exclusively and has won numerous awards around the world. In order to increase cooling efficiency and overclocking capability, the second generation "Twin Frozr II" is introduced on N275GTX Lightning. Twin Frozr II is equipped with two 8cm large size fans, 5 heatpipes, and high density fins to effectively dissipate high heat from GPU, memory, and power module area.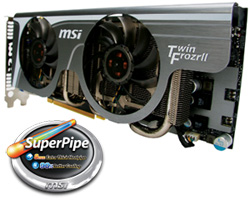 The key factor to effectively transfer heat is determined by the size of heatpipe. Therefore, MSI adopts SuperPipe technology to Twin Frozr II, the thickest 8mm heatpipe in the industry, and the cooling efficiency is 90% better than traditional heatpipe. The dual 8cm fans of Twin Frozr II are also bigger than last generation. Larger fan only needs low rotation speed to perform good cooling result, therefore noise is also reduced at the same time. Even Twin Frozr II is under full-speed operation, the generated noise is only 30db. Under all circumstances, the noise generated by fans is barely audible at anytime.
Dual 8cm large fans, 8mm Superpipe, and high density fins provide Twin Frozr II has excellent cooling ability. Compare with the NVIDIA reference thermal design , Twin Frozr II is 23°C cooler. Because of this remarkable cooling ability, MSI N275GTX Lightning can be easily overclocked to nearly 800MHz with Twin Frozr II stock cooler.
10 Phases PWM with APS
Different manufacture process has made GPU consumes more power than CPU, especially when overclocking the GPU. Without outstanding PWM module, overclocking potential of GPU will be limited by insufficient power output. By seeing this, MSI has made some improvements in last generation design and applied new 10 phases PWM design to MSI N275GTX Lightning. Now GPU power is 100% provided by two external powers and has substantially increased power stability, and overclocking performance.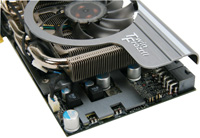 MSI exclusively implemented APS (Active Phase Switching) into N275GTX Lightning. APS can automatically adjust power phases according to its loading and shut down unused 7 phases when the system is in idle mode. Besides power saving, power efficiency can be increased up to 93%. Green, blue, and red LED lights are on the back of MSI N275GTX Lightning to indicate low, medium, and high loading status. Users can easily monitor power loading through the LED lights.
Overclocking Features
In the MOA (Master Overclocking Arena) competition hosted by MSI last year, all contestants suggested MSI to implement a convenient tool, V-Check Points. Overclockers have to monitor graphics card's voltage all the time. They have to search for contact points in complex circuit that can check GPU and memory's voltage. On Lightning series, two sets of V-Check Points have been implemented. The voltage of GPU and memory can be measured easily through the multimeter, and the additional voltage measurement cable is also bundled in MSI N275GTX Lightning to provide better user experience.
Lightning Afterburner is overclocking utility designed especially for Lightning series. GPU voltage, GPU and memory clock, and fan speed can be adjusted in Windows environment. Users can overclock easily through this utility and dramatically increase the performance of MSI N275GTX Lightning.
1729MB GDDR3 Memory
Same as MSI N260GTX Lightning, MSI N275GTX Lightning is equipped with 1792MB high speed memory (0.8ns GDDR3). Larger memory is always better for high performance graphics cards. Recent PC games use a lot of 3D special effects to perform the realistic experience, for example, GTA4 (Grand Theft Auto 4) requires more than 1.5GB memory when all effects are turned on to maximum settings. Except for MSI Lightning series, even the standard GTX 285 cannot run this game with such high requirement.
Ultra High Performance
With advanced Military Class components, 10 phase PWM design, Twin Frozr II thermal design, 1792MB memory, and Lightning Afterburner utility, the performance of MSI N275GTX lightning is faster than reference GeForce GTX 285 graphics cards. All in all, MSI N275GTX Lightning is the best choice for gamers and overclockers who are looking for extreme performance and best quality.
MSI N275GTX Lightning Product Highlights:
NVIDIA GeForce GTX 275
GPU Clock: 700MHz
Memory Clock: 2300MHz
Memory Size: 1792MB GDDR3 (0.8ns)
Military Class (Hi-c CAP/SSC/Solid CAP) for the highest quality components
10 Phase PWM for stable power supply under overclocking
APS dynamic phase adjustment for 93% power efficiency
Twin Frozr II thermal design is 23°C cooler than reference design
SuperPipe technology provides 90% better cooling efficiency with 8mm thickest heatpipe
V-Check Points for easy voltage measurement of GPU and memory
Lightning Afterburner utility for overvoltage and overclocking in Windows.
Source: MSI