MSI unveils Wind Box DC100 mini PC

MSI today introduced a new member to its Wind Box mini PC series, the DC100 model which is based on the latest AMD Brazos platform E-450 dual-core processor and A50M chipset and promising outstanding energy-saving capabilities.
This cute, mini PC has a snow-white exterior and  "snowboard" style base design, weighting 830 grams and just 191.8 mm (W) × 150.93 mm (H) × 34.94 mm (D) in size. The mini PC is also very quiet, thanks to MSI's proprietary noise reduction technology, it keeps noise down to under 22 dB when is in standby mode. Inside, the Wind Box DC100 packs the power of AMD's Fusion E-450/1.65 GHz APU with  Radeon HD 6320 graphics and MSI reckons that the compact PC has average power consumption is just 40W. It also can be equipped with up to has 4GB of RAM, a 320GB hard drive, Gigabit Ethernet, 802.11 b/g/n WiFi, six USB 2.0 ports, a 6-in-1 card reader and VGA and HDMI outputs.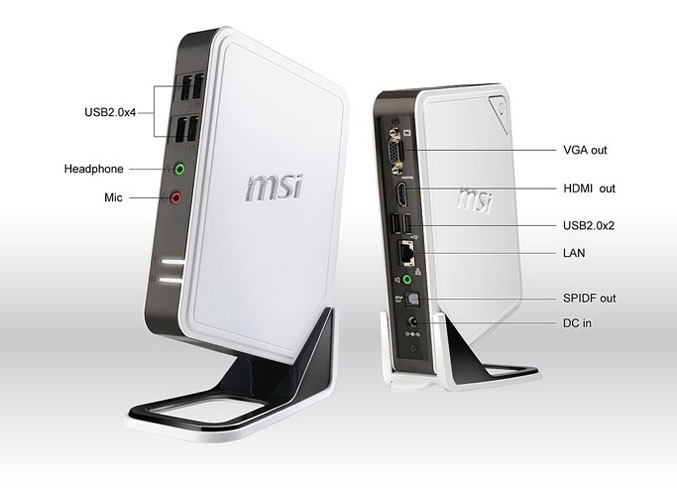 The compact PC supports 1080p high-definition video, paired with 5.1 channel audio + SPDIF out. It comes pre-loaded with Windows 7 Home Premium 64 bit and MSI proprietary software -Smart Media Link and Smart Sync, utilizing the latest cloud computing technology
Source: MSI