The Dutch graphics card maker Point of View has leaked information about its own GeForce GTX 670 video card that not only includes a picture of it but also detailed specs of the upcoming novelty. The GeForce GTX 670 is expected to be officially launched on May 10.
The Point of View GeForce GTX 670 is a smaller card than the GTX 680 and is based on the 28 nm GK104 Kepler core as expected. The GTX 670 however is a cut down version and this is the reason why the GTX 670 will come with 1344 stream processors, down from 1536 in the GTX 680. The PoV card also features 2 GB of GDDR5 memory with a 256-bit interface. The core runs at 915 MHz but in Boost mode the frequency grows to 980 MHz. The GDDR5 memory on the other hand works at 1502 MHz (6008 MHz effective), which is the same speed found in the GTX 680.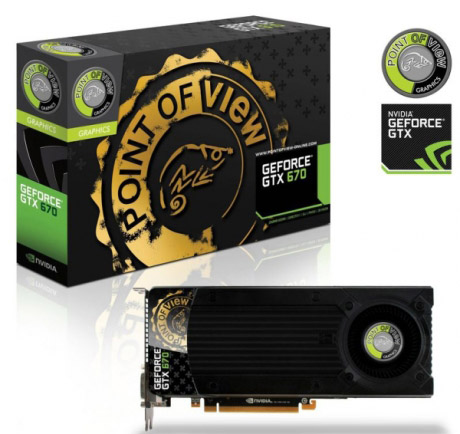 If the PoV card uses reference GPU and memory speeds this means that the GTX 670 will be a formidable opponent to AMD's graphics solutions not only because of the same memory speed as in the GTX 680 but also because of the slightly reduced number of stream processors when compared to the faster GTX 680.
The PoV card also uses the reference cooling solution for the GTX 670, which makes the card a little bigger. The video card will cost 399 USD – a price that directly relates to the Radeon HD 7950 by AMD.
Source: Kaldata.com