ASUS has finally announced the technical specs of its newest tablet – the Transformer Prime, which should hit the market next month. The specs are so formidable it won't be a surprise if this tablet turns out to be the most powerful on the market when it launches. Better yet – its price is not going to be high!
The ASUS Transformer Prime comes with a sleek design, weighing just 586 grams, which is a bit heavier than the Tab 10.1, but lighter than the iPad 2. The tablet will also be 8.3mm thin and will come in two colors: Amethyst Gray and Champagne Gold, two colors that are usually associated with high-end products. The body of the Transformer Prime will be made out of metal and not plastic and that is another plus.
The tablet can be securely connected with a closing latch to an optional keyboard dock. Once in that mode, it opens and closes like a small laptop. The overall weight is close to 1 kilogram in that configuration.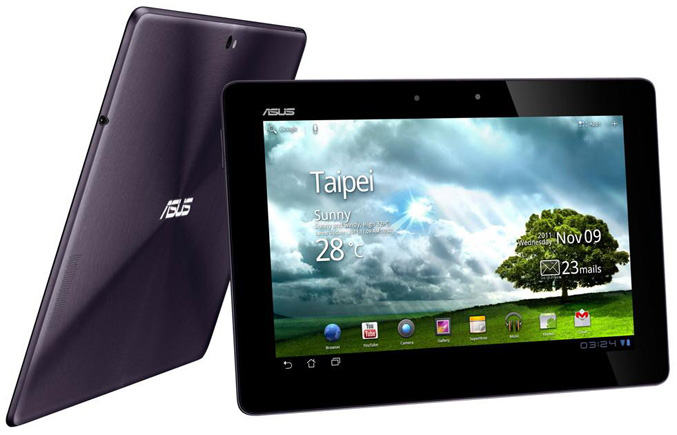 The screen will offer 1280×800 resolution and will be based on Super IPS+ technology, used in the iPad 2. What is remarkable here is that IPS technology allows for a remarkable 178 degrees view angle (useful if several people are looking at the tablet) and excellent color reproduction. The screen responsiveness has been increased substantially and according to ASUS the screen reacts in 50ms, instead of 110+ ms as in older ASUS tablets.
The new tablet will be complemented by an 8 megapixel camera with an aperture of f2.4, which is high-end for today's mobile cameras. The camera will have a companion in the form of a back-illuminated sensor (BIS), which captures more light than conventional sensors.
The device will be powered by the new NVIDIA Tegra 3 processor that is supposed to be 5 times faster than the older Tegra 2. The speed comes from four cores, which have a companion – a fifth core, used only in light load scenarios – web surfing, listening to music etc. When full processing power is needed the fifth core goes to sleep and the other four cores do the job.
Battery life has also been improved – ASUS claims that its tablet can run for about 12hrs, and if you use the optional keyboard dock, that would extend to 18hrs. At first the tablet will come with Honeycomb (3.x), but it will eventually update to Ice Cream Sandwich.
What's even better however is the pricing – the 32GB ASUS Transformer Prime will sell for $499, which is the price of the Galaxy Tab 10.1 (16GB) or the iPad 2 (16GB). The optional keyboard/doc will cost $149.
Source: Ubergizmo