Apple has made its second-generation iPad official – the iPad 2 is here. It features a new design, it is lighter and packed with new features. Although it has the same 9.7-inch LED-backlit IPS LCD with 1024 x 768 pixel resolution, Apple says that is 33 percent thinner and up to 15 percent lighter than the original iPad, actually its 8.8mm thick as opposed to the 13.4mm iPad and weights 1.33 pounds (601 g).
iPad 2 is powered by Apple's new dual-core A5 processor at 1GHz which Apple claims is up to twice as fast than the 1GHz A4 chip in the original iPad and having the same power consumption as the A4. The company also said that the iPad 2's graphics performance is up to nine times better than on the original iPad.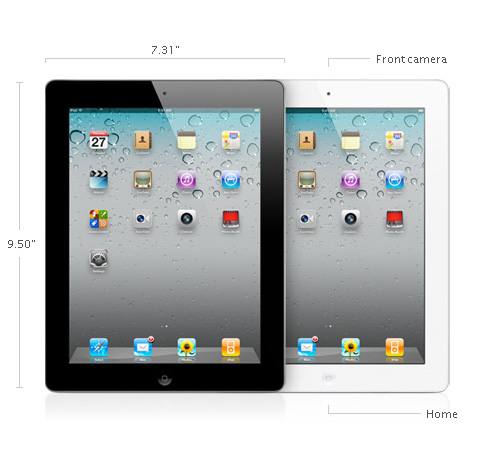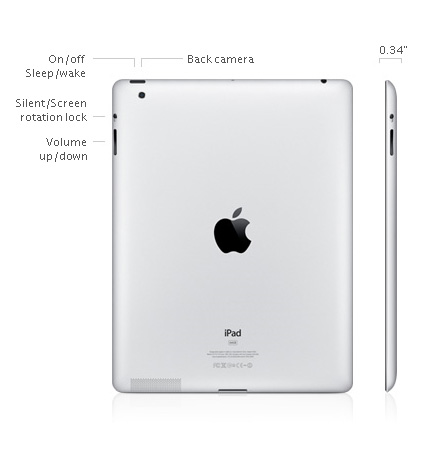 The new tablet  is also equipped with two cameras –  a front-facing VGA camera for FaceTime and Photo Booth with 30fps recording function, and a rear-facing camera that captures 720p HD video with 30 frames per second with audio and 5x digital zoom. The new version come in 16, 32, and 64GB storage options, has 802.11 a/b/g/n(WiFi+3G models), Bluetooth 2.1 + EDR, 3-axis accelerometer, ambient light sensor, digital compass, assisted GPS and has a built-in 25-watt-hour rechargeable lithium-polymer battery that promises up to 10 hours of surfing the web on Wi-Fi, watching video, or listening to music. It also offers built-in speaker, microphone,  as well 3.5-mm stereo headphone minijack, giving you convenience to hook up your favorite headphones or external speakers.
The iPad 2 is capable f 1080p Full HD HDMI output, but you have to purchase an optional Apple Digital AV Adapter that plugs into the standard Apple dock connector. This adapter will let you mirror your iPad screen on an HDTV and also will allow you to charge the tablet at the same time. It will set you back another $39.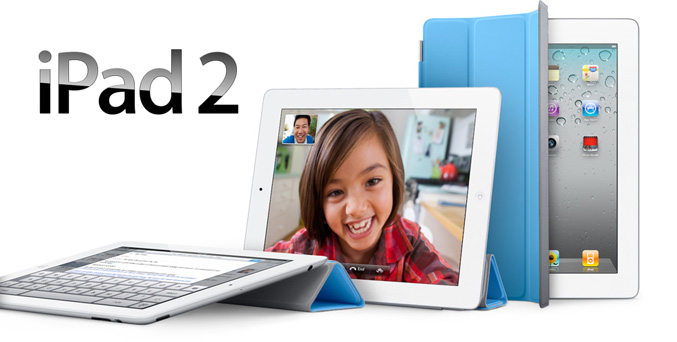 Apple offers and new cover for the iPad 2, called Smart Cover which is designed with a self-aligning magnetic hinge that makes it easy to attach and remove, has a soft microfiber lining to help keep the screen clean, and provides protection for the iPad screen. It's also automatically wakes iPad 2 when it's opened puts it to sleep when it's closed. The Smart Cover can also acts as a a stand for typing or viewing videos and is available in vibrant polyurethane for $39 or leather for $69 in a wide range of colors.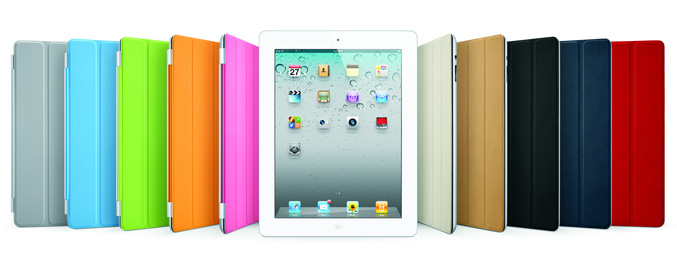 The iPad 2 comes with iOS 4.3 version pre-installed, that brings new features like updated Safari browser, FaceTime, iTunes Home Sharing, enhancements to AirPlay,  Personal Hotspot to share an iPhone 4 cellular data connection over Wi-Fi and the choice to use the iPad side switch to either lock the screen rotation or mute audio.
The iPad 2 is available from March 11th in black or white with following prices:
– WiFi-only models – 16GB at $499 | 32GB at $599 | 64GB at $699
– WiFi+3G models – 16GB at $629 | 32GB at $729 | 64GB at $829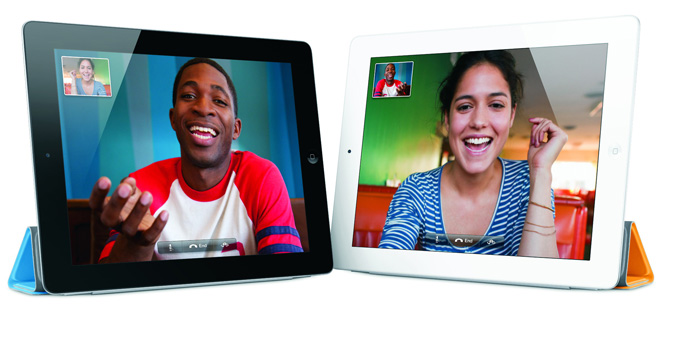 "With more than 15 million iPads sold, iPad has defined an entirely new category of mobile devices," said Steve Jobs, Apple's CEO. "While others have been scrambling to copy the first generation iPad, we're launching iPad 2, which moves the bar far ahead of the competition and will likely cause them to go back to the drawing boards yet again."