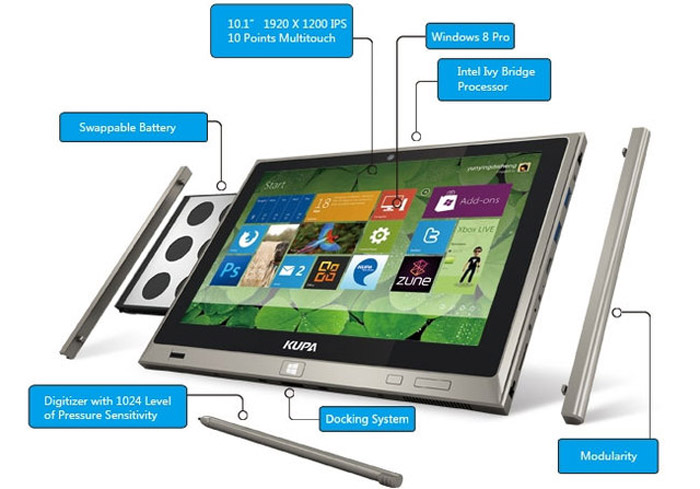 The not so well known company Kupa has announced the UltraNote tablet – and while this is still a tablet it comes with a unique feature – a modular chassis.
The UltraNote will run Windows 8 Professional and this is the reason the tablet is based on Intel Ivy Bridge processors encompassing the whole CPU range – Core i3, Core i5 and Core i7 processors. The tablet also sports a 10.1-inch IPS sensor display running at 1920 x 1200 pixels, 4 GB or 8 GB of RAM, 64 GB or 128 GB SSD, one front 2 MP camera, one rear 5 MP camera, Wi-Fi 802.11a/b/g/n/ac, Bluetooth 4.0, NFC and 3G/4G. The tablet also supports USB 3.0 (two ports) and HDMI.
The most interesting thing about the UltraNote is that the tablet features a modular construction. This means you can connect other hardware to it – either to the left side or to the right side of the tablet. For example, you can connect a card reader, a scanner, video camera etc. The tablet also gives you the opportunity to connect a dock keyboard, an additional battery etc. – you can even exchange the built-in battery with no efforts. Speaking of it, the battery delivers 7 hours of work and if you use a docking station battery life goes up to 12 hours.
The release date and pricing are unknown as of now.
Source: Itspell.ru